Technology for Extrusion Cooking of Finger Millets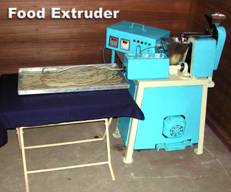 1. Function : To produce value added products from millets.
2. Specification
(a) Overall dimension : 960 x 750 x 600
(L x B x H, mm)
(b) Capacity : 10-20 kg/h
© Power required : 7.5 hp electric motor
3. General Information
Extrusion cooking is a process of value addition of cereals and other grains for the production of the value added products, the extrudates. For the extrusion cooking of finger millet (ragi) flours, a single screw laboratory model extruder is required. The flour is conditioned to a moisture content for about 22% (wb), one hour prior to the extrusion. During conditioning, cassava flour to a level of 20% is added to increase the expansion, crispiness and acceptability. Extrusion is done at barrel temperature and screw speed 115ºC and 225 rpm, respectively.
4. Cost of the unit (Approximate) : Rs.1, 00,000/-
5. Cost of operation : Rs.15 per kg
6. Salient features
Value addition of finger millets


Finds industrial application for finger millet


Other millets can also be extruded.