SERICULTURE IN TAMIL NADU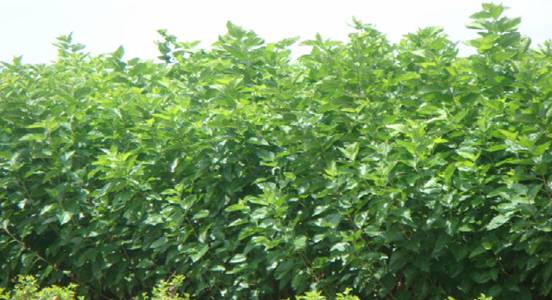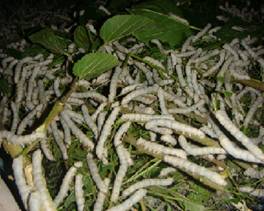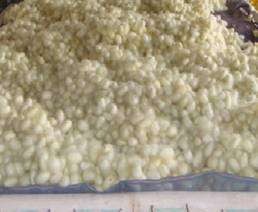 In our country, favorable climatic condition for mulberry cultivation prevails in five states viz., Karnataka, Andhra Pradesh, Tamilnadu, West Bengal and Jammu Kashmir. These states occupy 97% of total mulberry cultivation and contribute 95% of raw silk production in India.
Tamilnadu is ranked fourth place among the silk producing state of our country. In 1956, Sericulture was practiced in limited pockets of Coimbatore and Dharmapuri district in our state, accounted 500 hectares only. Then with the implementation of many developmental schemes in the state sericulture activity was introduced into the plains of the state. From 1979, Department of Sericulture with headquarters at Salem is functioning as development wing under Department of Industries and Commerce.
The latest cost saving technologies (separate rearing room for silkworm, use mulberry branches as feed to worm, 100% use of disinfectants and supply of chawki worms etc.,) was introduced by Research Institutions helped the farmers to increase the productivity and income level. Details below noted the performance of sericulture in Tamilnadu as
S.No

Particulars

Units

Year
2006- 07

Year
2007- 08

Percentage Increase

1

Mulberry Area Expansion

Acres

10389

10411

0.21

2

Silk worm seed consumption

Lakh nos.

127.021

151.417

19

3

Cocoon production

Metric ton

7931

9679

22

4

Raw silk
production

Metric ton

1124

1368

22

5

Employment

Numbers

51945

52055

0.21
At present 30,000 farmers are practicing Sericulture in Tamilnadu cultivating 35,000 acres of mulberry. Weaving sector comprises mostly of Handlooms in Kancheepuram, Kumbakonam, Arani, Salem, Coimbatore, Madurai and Tirunelveli weaving centres in our state.