Threats to Biodiversity
Loss of old growth forest in the United States; 1620, 1850, and 1920 maps:
From William B. Greeley's, The Relation of Geography to Timber Supply, Economic Geography, 1925, vol. 1, p. 1–11. Source of "Today" map: compiled by George Draffan from roadless area map in The Big Outside: A Descriptive Inventory of the Big Wilderness Areas of the United States, by Dave Foreman and Howie Wolke (Harmony Books, 1992). These maps represent only virgin forest lost. Some regrowth has occurred but not to the age, size or extent of 1620 due to population increases and food cultivation.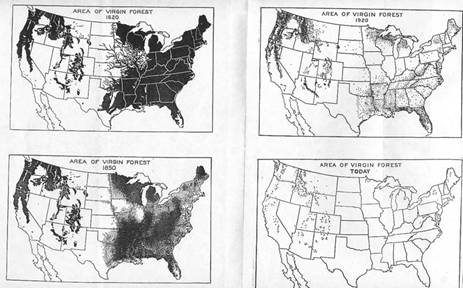 These maps represent only virgin forest lost. Some regrowth has occurred but not to the age, size or extent of 1620 due to population increases and food cultivation.
During the last century, erosion of biodiversity has been increasingly observed. Some studies show that about one eighth of known plant species are threatened with extinction. Some estimates put the loss at up to 140,000 species per year (based on Species-area theory) and subject to discussion. This figure indicates unsustainable ecological practices, because only a small number of species come into being each year. Almost all scientists acknowledge that the rate of species loss is greater now than at any time in human history, with extinctions occurring at rates hundreds of times higher than background extinction rates.
The factors that threaten biodiversity have been variously categorized. Jared Diamond describes an "Evil Quartet" of habitat destruction, overkill, introduced species, and secondary extensions. Edward O. Wilson prefers the acronym HIPPO, standing for Habitat destruction, Invasive species, Pollution, Human Over Population, and Overharvesting. The most authoritative classification in use today is that of IUCN's Classification of Direct Threats adopted by most major international conservation organizations such as the US Nature Conservancy, the World Wildlife Fund, Conservation International, and Birdlife International.
1. Destruction of habitat
Most of the species extinctions from 1000 AD to 2000 AD are due to human activities, in particular destruction of plant and animal habitats. Raised rates of extinction are being driven by human consumption of organic resources, especially related to tropical forest destruction. While most of the species that are becoming extinct are not food species, their biomass is converted into human food when their habitat is transformed into pasture, cropland, and orchards. It is estimated that more than a third of the Earth's biomass is tied up in only the few species that represent humans, livestock and crops. Because an ecosystem decreases in stability as its species are made extinct, these studies warn that the global ecosystem is destined for collapse if it is further reduced in complexity. Factors contributing to loss of biodiversity are: overpopulation, deforestation, pollution (air pollution, water pollution, soil contamination) and global warming or climate change, driven by human activity. These factors while all stemming from overpopulation, produce a cumulative impact upon biodiversity.
There are systematic relationships between the area of a habitat and the number of species it can support, with greater sensitivity to reduction in habitat area for species of larger body size and for those living at lower latitudes or in forests or oceans. Some characterize loss of biodiversity not as ecosystem degradation but by conversion to trivial standardized ecosystems (e.g., monoculture following deforestation). In some countries lack of property rights or access regulation to biotic resources necessarily leads to biodiversity loss (degradation costs having to be supported by the community).
A September 14, 2007 study conducted by the National Science Foundation found that biodiversity and genetic diversity are dependent upon each other—that diversity within a species is necessary to maintain diversity among species, and vice versa. According to the lead researcher in the study, Dr. Richard Lankau, "If any one type is removed from the system, the cycle can break down, and the community becomes dominated by a single species."
At present, the most threatened ecosystems are those found in fresh water. The marking of fresh water ecosystems as the ecosystems most under threat was done by the Millennium Ecosystem Assessment 2005, and was confirmed again by the project "Freshwater Animal Diversity Assessment", organised by the biodiversity platform, and the French Institut de recherche pour le développement (MNHNP)
2. Exotic species
The rich diversity of unique species across many parts of the world exist only because they are separated by barriers, particularly large rivers, seas, oceans, mountains and deserts from other species of other land masses, particularly the highly fecund, ultra-competitive, generalist "super-species". These are barriers that couldn't have been easily crossed by natural processes, except through continental drift. However, humans have invented transportation with the ability to bring into contact species that they've never met in their evolutionary history; also, this is done on a time scale of days, unlike the centuries that historically have accompanied major animal migrations.
The widespread introduction of exotic species by humans is a potent threat to biodiversity. When exotic species are introduced to ecosystems and establish self-sustaining populations, the endemic species in that ecosystem that have not evolved to cope with the exotic species may not survive. The exotic organisms may be either predators, parasites, or simply aggressive species that deprive indigenous species of nutrients, water and light. These invasive species often have features, due to their evolutionary background and new environment, that make them highly competitive; able to become well-established and spread quickly, reducing the effective habitat of endemic species.
As a consequence of the above, if humans continue to combine species from different ecoregions, there is the potential that the world's ecosystems will end up dominated by relatively a few, aggressive, cosmopolitan "super-species". In 2004, an international team of scientists estimated that 10 percent of species would become extinct by 2050 because of global warming. "We need to limit climate change or we wind up with a lot of species in trouble, possibly extinct," said Dr. Lee Hannah, a co-author of the paper and chief climate change biologist at the Center for Applied Biodiversity Science at Conservation International.
3. Genetic pollution
Purebred naturally evolved region specific wild species can be threatened with extinction through the process of genetic pollution i.e. uncontrolled hybridization, introgression and genetic swamping which leads to homogenization or replacement of local genotypes as a result of either a numerical and/or fitness advantage of introduced plant or animal. Nonnative species can bring about a form of extinction of native plants and animals by hybridization and introgression either through purposeful introduction by humans or through habitat modification, bringing previously isolated species into contact. These phenomena can be especially detrimental for rare species coming into contact with more abundant ones. The abundant species can interbreed with the rarer, swamping the entire gene pool and creating hybrids, thus driving the entire native stock to complete extinction. Attention has to be focused on the extent of this under appreciated problem that is not always apparent from morphological (outward appearance) observations alone. Some degree of gene flow may be a normal, evolutionarily constructive, process, and all constellations of genes and genotypes cannot be preserved. However, hybridization with or without introgression may, nevertheless, threaten a rare species' existence.
4. Hybridization and genetics
In agriculture and animal husbandry, the green revolution popularized the use of conventional hybridization to increase yield by creating "high-yielding varieties". Often the handful of hybridized breeds originated in developed countries and were further hybridized with local varieties in the rest of the developing world to create high yield strains resistant to local climate and diseases. Local governments and industry have been pushing hybridization which has resulted in several of the indigenous breeds becoming extinct or threatened. Disuse because of unprofitability and uncontrolled intentional and unintentional cross-pollination and crossbreeding (genetic pollution), formerly huge gene pools of various wild and indigenous breeds have collapsed causing widespread genetic erosion and genetic pollution. This has resulted in loss of genetic diversity and biodiversity as a whole.
A genetically modified organism (GMO) is an organism whose genetic material has been altered using the genetic engineering techniques generally known as recombinant DNA technology. Genetically Modified (GM) crops today have become a common source for genetic pollution, not only of wild varieties but also of other domesticated varieties derived from relatively natural hybridization.
Genetic erosion coupled with genetic pollution may be destroying unique genotypes, thereby creating a hidden crisis which could result in a severe threat to our food security. Diverse genetic material could cease to exist which would impact our ability to further hybridize food crops and livestock against more resistant diseases and climatic changes.
5. Climate Change
The recent phenomenon of global warming is also considered to be a major threat to global biodiversity. For example coral reefs -which are biodiversity hotspots- will be lost in 20 to 40 years if global warming continues at the current trend.