PLANT QUARANTINE
Introduction:
The first legal restrictions to hinder the spread of disease were enacted against human disease. Plantquarantine may be defined as the restriction imposed by duly constituted authorities on the production, movement and existence of plants or plant materials, or animals or animal products or any other article or material or normal activity of persons and is brought under regulation in order that the introduction or spread of a pest may be prevented or 8 limited or in order that the pest already introduced may be controlled or to avoid losses that would otherwise occur through the damage done by the pest or through the continuing cost of their control. When plant pathogens are introduced into an area in which they did not previously exist, they are likely to cause much more catastrophic epidemics than do the existing pathogens. Some of the worst plant disease epidemics that have occurred through out the world, for example the downy mildew of grapes in Europe and the bacterial canker of citrus, the chestnut operation of the quarantine regulations. It is extremely difficult to predict accurately whether an exotic organism will become established, and once established, become economically important. Factors which affect entry and establishment of an organism are (1) hitchhiking potential compared with natural dispersal; (2) ecological range of the pest as compared with ecological range of its host; (3) weather; (4) ease of colonization including reproductive potential, and (5) agricultural practices including pest management.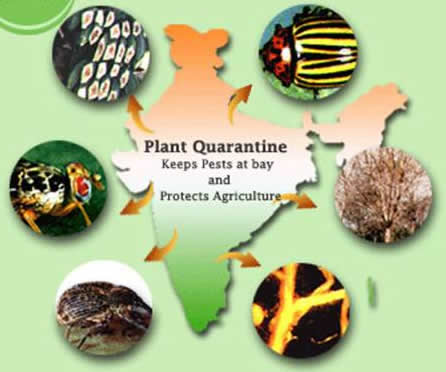 The National Plant Quarantine Station at Rangpuri, New Delhi and four Regional Plant Quarantine Stations at Amritsar, Chennai, Kolkata and Mumbai are the major stations and are located at places having international airport/seaport/land frontier with neighboring countries. National Bureau of plant (genetic Resources, New Delhi which is the nodal institution for exchange of plant genetic resources has been empowered under PQ order to handle quarantine processing of germplasm and transgenic planting material being imported for research purposes in the country. As per the recent amendments made under the PQ order, the Advanced Centre for Plant Virology at JARI, New Delhi, Indian Institute of Horticultural Research, Bangalore and Institute of Himalayan Bioresource Technology, Palampur have been identified for ensuring virus-free status in the imported in vitromaterial. Under the DIP Act, there is a provision of Domestic Quarantine to restrict the inter-state movement of nine invasive pests viz flute scale, sanjose scale, coffee berry borer, codling moth, banana bunchy top and mosaic viruses, potato cyst nematode, potato wart and apple scab. Keeping in view the biosafety concerns associated with the growing of imported transgenic material, a containment Facility of Level -4 has been established at NBPGR, New Delhi for their quarantine processing.
Plant Quarantine Facilities in India:
Plant Quarantine regulatory measures are operative through the "Destructive insects & pests Act, 1914 (Act 2 of 1914)" in the country. The purpose and intent of this Act is to prevent the introduction of any insect, fungus or other pest, which is or may be destructive to crops. The import of agricultural commodities is presently regulated through the Plant Quarantine (Regulation of Import into India) Order, 2003 issued under DIP Act, 1914 incorporating the provisions of New Policy on Seed Development, 1988. Further, the significance of Plant Quarantine has increased in view of Globalisation and liberalisation in International trade of plants and plant material in the wake of Sanitary and Phytosanitary (SPS) Agreement under WTO. The phytosanitary certification of agricultural commodities being exported is also undertaken through the scheme as per International Plant Protection Convention (IPPC), 1951. 
The primary objectives of the Scheme are
To prevent the introduction and spread of exotic pests that are destructive to crops by regulating/restricting the import of plants/plant products and

To facilitate safe global trade in agriculture by assisting the producers and exporters by providing a technically competent and reliable phytosanitary certificate system to meet the requirements of trading partners.
The major activities under the scheme include;
Inspection of imported agricultural commodities for preventing the introduction of exotic pests and diseases inimical to Indian Fauna and Flora
Inspection of agricultural commodities meant for export as per the requirements of importing countries under International Plant Protection Convention (IPPC)
Detection of exotic pests and diseases already introduced for containing/ controlling them by adopting domestic quarantine regulations.
Undertaking Post Entry Quarantine Inspection in respect of identified planting materials.
Conducting the Pest Risk Analysis (PRA) to finalise phytosanitary requirements for import of plant/plant material.
There are 35 Plant quarantine Stations at different Airports, Seaports and Land frontiers implementing the Plant Quarantine regulations. The NPQS, New Delhi and RPQSs at Chennai, Kolkata, Amritsar and Mumbai have been strengthened with modern equipment for plant quarantine testing, etc., to facilitate speedy clearance of imports and exports under the FAO-UNDP Project. 
The Sanitary and Phytosanitary Agreement of WTO envisages application of Phytosanitary measures based on scientific justifications therefore it is imperative to conduct all Plant Quarantine inspections as per the International Standards/guidelines. Accordingly, the National Standards for Phytosanitary Measures for some of the important activities have already been developed and adopted including the Guidelines for Development of National Standards for Phytosanitary Measures and six draft National Standards are under the process of approval. The Standards which are critical for our exports have been prioritised. Further, a National Integrated Fruit Fly Surveillance Programme has also been prepared with a view to establish pest-free areas against fruit flies. To streamline the Plant Quarantine activities, efforts are being made to computerise the Plant Quarantine Stations for speedy and transparent functioning. 
Substantial efforts have also been made towards the international cooperation on the phytosanitary matters including participation in IPPC Standard Committee meetings for development of International Standards for Phytosanitary Measures, Training of fumigation service providers and regulators in methyl bromide fumigation under the Australian Fumigation Accreditation Scheme, finalisation of SPS Protocol for export of mango to China, harmonisation of phytosanitary measures with reference to Seed trade through the Workshops organised by Asia Pacific Seed Association (APSA), negotiations on free trade agreement with Thailand and Singapore, Memorandum of Understanding and work plan with Chile for cooperation on Phytosanitary matters and Indo-Nepal Joint trade and economic development negotiations.
Plant Quarantine
PFS ORDER, 1989
[The Plants, Fruits and Seeds (Regulation of Import into India) Order, 1989 ]
Other links:
http://www.plantquarantineindia.org/seeds.htm
http://www.nbpgr.ernet.in/download.htm
http://ppqs.gov.in/Ipmplant.htm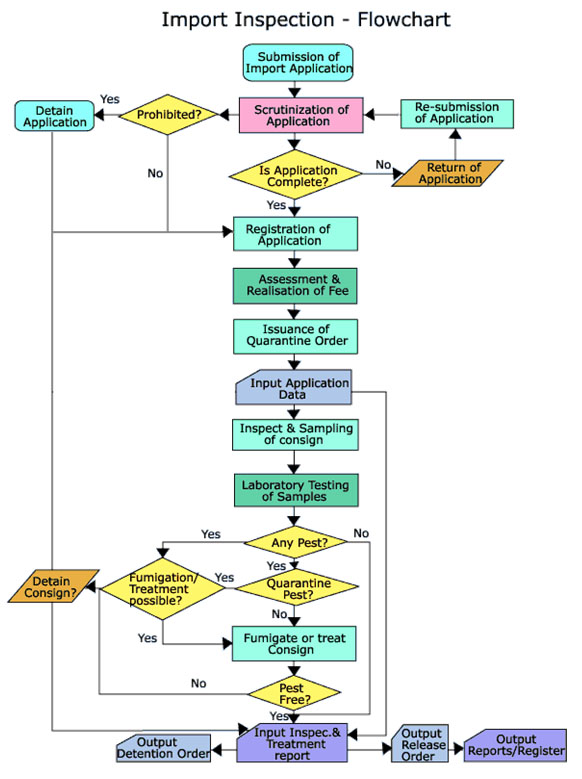 LIST OF PLANT QUARANTINE STATIONS IN INDIA
Sl.No.
State
Name /Designation of Officer In-charge
Postal Address
Phone/FAX/E-mail
1
ANDHRA PRADESH
Shri.Manojpuri Goswamy Plant Protection Officer (E)
Plant Quarantine Station, Unit No : 19&20,II Floor, Cargo Satellite Building, Samsabad Airport, HYDERABAD – 500 018 
(Andhra Pradesh)
040-24008276 (O) 
E-mail: pqfsap12@nic.in
2
ANDHRA PRADESH
Dr. Umesh Kumar Plant Protection Officer (PP)
Plant Quarantine Station, 3rd Floor, S.W.Wing, Dock Labour Board Building, Port Area, VISHAKAPATNAM 530 035 (Andhra Pradesh)
0891-2502357 (O) 
E-mail:pqfsap11@nic.in
3
ANDHRA PRADESH
Shri. P.K. Sharma Plant Protection Officer (E)
Plant Quarantine Station, Port Area,KAKINADA (Andhra Pradesh)
0884-2345865 (O)
4
AGARTALA
Officer-in-charge
Plant Quarantine Station, AGARTALA C/o State Biocontrol laboratory, State Agri. Research Complex, Datta Titta, Arundhuti Nagar,AGARTALA 799 003
-
5
ASSAM
Officer-in-charge
Plant Quarantine Station, Guwahati (Ashirwad) Airport Road, Lankeshwar, Jalukbari, P.O.Guwahati University, GUWAHATI – 781 014 (Assam)
0361-2454676
6
BIHAR
Officer-in-charge
Plant Quarantine Station, Jai Prakash Narayan International Airport, PATNA (Bihar)
0612-286563 (Tele-Fax)
E-mail:pqfsbi05@nic.in
7
BIHAR
Officer-in-charge
Plant Quarantine Station, Old Telegraph Office Building, Ashram Road, RAXUAL- 845 305 (Bihar)
0612-286563 (O) 
0612 – 2570966 (F)
8
BIHAR
Officer-in-charge
Plant Quarantine Station, Jogbani, Araria Distt., Bihar.C/o Shri. Ashok kumar Shah (N.S.Agent), Check-Post, JOGBANI- 854 328 (Bihar)
-
9
GUJARAT
Officer-in-charge
Plant Quarantine Station, Plot.No.5,Chettan Society, Opp.Kalubha Saheb's Banglow, BHAVNAGAR- 354 001 (Gujarat)
0278-2211246(O) 
0278-2511248(O) 
E-mail:pqfsgj10@nic.in
10
GUJARAT
Officer-in-charge
Plant Quarantine Station, NU-10, B-80,Shakti Nagar, KANDALA (Gandhidham)-370 201.(Gujarat)
02836-228286(O) 
02836-226042(R) 
E-mail:pqfsgj12@nic.in
11
HARYANA
Dr. D.D.K.Sharma Joint Director (PQ)
Plant Quarantine Division Directorate of Plant Protection Quarantine & Storage , Department of Agriculture & Cooperation, Government of India, N.H-IV,FARIDABAD-121 001 (Haryana)
0129-2418506 (O) 
0129-2412125 (F)
E-mail:jdpq@nic.in
12
HARYANA
Dr. V.K. Yadava Plant Protection Adviser
Directorate of Plant Protection Quarantine& storage(DPPQS), Department of Agriculture & Cooperation, Government of India, N.H-IV,FARIDABAD 121 001 (Haryana)
0129-2413985(O)
0129-2412125(F) 
E-mail: ppa@nic.in
13
KARNATAKA
Shri.C.P.Singh Plant Protection Officer(E)
Plant Quarantine Station, KIADB, Industrial Area, (Mungaru last bus stop) Jokatte Road, Baikampady MANGALORE – 575 010 (Karnataka)
0824-2406088( Tele fax) 0824 – 2400708 (O) 
E-mail: ppo.pqs.karmng@nic.in
14
KERALA
Shri. M.N. Reddy Plant Protection Officer(E)
Plant Quarantine Station, Willington Island, COCHIN-682 003 (Kerala)
0484-2666145(O) 
0484-2669846(O) 
E-mail: pqfskl12@nic.in
15
KERALA
Dr.D.K.Nagaraju Plant Protection Officer(E)
Plant Quarantine Station, T.C.No.38, Subash Nagar THIRUVANATHAPURAM 695 008 (Kerala)
0471-2474653 (O) E-mail:pqfskl13@nic.in
16
MAHARASTRA
Shri.Shiv Sagar Verma Deputy Director (PP)
Regional Plant Quarantine Station (RPQS), Haji Bunder Road, Sewri (E), MUMBAI -400 015 (Maharastra)
022-23757459(O)
022-23748541(O)
022-23710419(O) 
022-23748548(F)
E-mail: rpqfstm@nic.in
17
NEW DELHI
Shri. Pankaj Kumar Joint Secretary (Plant Protection)
Ministry of Agriculture, Krishi Bhavan, NEW DELHI.
011-23070916 (O) 
011- 23070306 (F)
E-mail:pankajkumar@nic.in
18
NEW DELHI
Mrs. Vandana Jain Deputy Secretary
Ministry of Agriculture, Krishi Bhavan, NEW DELHI.
Telefax : 011- 23382937 E-mail:Vandana.jain@nic.in
19
NEW DELHI
Dr. V.K. Yadava Plant Protection Adviser
409/'B' Wing, Shastri Bhavan, NEW DELHI – 110 001
011-23385026(O) 
011-23384182(F)
20
NEW DELHI
Dr. J.P.Singh Deputy Director (E)
National Plant Quarantine Station (NPQS), Rangapuri, NEW DELHI – 110 037
011-26899297(O)
011-26138362(O)
011-26138382(F) 
011-26363623(O) 
E-mail:npqfc@nic.in
21
PUNJAB
Shri. Ashok Shukla Deputy Director (PP)
Regional Plant Quarantine Station (RPQS), Ajnala Road, Near Air Force Station, RajaSansi Airport, AMRITSAR (Punjab)
01858-233776 (O) 
01858-233775 (O) 
01858-233775 (F) 
E-mail: rpqfsa@nic.in
22
TAMIL NADU
Dr.Jasvir Singh Deputy Director (E)
Regional Plant Quarantine Station (RPQS), GST Road, (Near Trident Hotel), Meenambakkam, CHENNAI – 600 027 (Tamil Nadu)
044-22323888(O) 
044-22347488(O) 
044-22347522(O)
044-22342949(F)
E-mail:rpqfsc@nic.in
23
TAMIL NADU
Shri. Devandra Kumar Plant Protection Officer (E)
Plant Quarantine Station, No. 4 / 194 A, Vth Street, CGE Colony, TUTICORIN- 628 003 (Tamil Nadu)
0461-2377968(Tele fax) 
E-mail:pqfstn17@nic.in
24
TAMIL NADU
Dr.K.Ravi Plant Protection Officer (PP)
Plant Quarantine Station, Airport, TIRUCHIRAPALLI 620 047
(Tamil Nadu)
0431-2341380 (O)
E-mail:pqfstn13@nic.in
25
UTTARANCHAL
Officer-in-charge
Plant Quarantine Station, C/o. Land Customs Station, BANBASA Dist., Champawat, Uttaranchal
C/o. Land Customs Station 05943-264018
26
UTTAR PRADESH
Officer-in-charge
Plant Quarantine Station, SONAULI Distt. Maharajganj Uttar Pradesh
C/o .Land Customs Station 05522-238434
27
UTTAR PRADESH
Officer-in-charge
Plant Quarantine Station, RUPAIDIHA Distt. Bahraich 
Uttar Pradesh
C/o. Land Customs Station 05253-240418
28
WEST BENGAL
Officer-in-charge
Plant Quarantine Station, Dhamala Building, Rinking Pong Road, KALIMPONG- 734 301 , Darjeeling (DT) (West Bengal)
03552-255894(O) 
E-mail:pqfswb07@nic.in
29
WEST BENGAL
Officer-in-charge
Plant Quarantine Station, Sukanta Park , (Near Pipe Road), BONGAON – 743 235, North 24 Parganas, West Bengal
03215-245686( Tele fax) 03215-254030(O)
E-mail: pqs bongaon@bsnl.in
30
WEST BENGAL
Officer-in-charge
Plant Quarantine Station, N.H.31-C, PANITANKI, P.O.Dulal Jote, Distt. Darjeeling, West Bengal – 734 429
0353-2555240 (O)
E-mail:pqfswb10@nic.in
31
WEST BENGAL
Dr.Gautam Chatterjee Deputy Director (PP)
Regional Plant Quarantine Station (RPQS), FB-Block, Sector III, (Opp: Shrabani Abasan), Salt Lake City, KOLKATA – 700 097. 
(West Bengal)
033-23597679(O) 
033-23213168(O) 
033-23580025(F) 
033-25119312(O)
E-mail:rpqfsk@nic.in
Source:
http://216.239.59.104/search?q=cache: VuDmtfYRmhEJ:www.techno-preneur.net/information-desk/sciencetech- magazine/2007/dec07/Plant%2520Quarantine.pdf+plant+ quarantine&hl=en&ct=clnk&cd=9&gl=in&client=firefox-a
http://india.gov.in/sectors/agriculture/plant_protection.php
http://ppqs.gov.in/Ipmplant.htm