ICAR - Mega Seed Project
The Tamil Nadu Agricultural University is implementing Mega Seed Project to strengthen the seed production programme in the University with financial assistance from ICAR, New Delhi. Under this project, TNAU has created infrastructure such as seed godowns, threshing floors, farm fencing, irrigation facilities hardening units, nursery facilities, seed processing plant, seed testing laboratory, training facilities etc. in different seed production centres. Different farm machineries and equipments such as seed processing units, combined harvesters, tractors, power tillers, submersible pumps etc., were also purchased. Consequent to this infrastructure development for seed production programmes in 20 different centres of TNAU, the seed production in the University has been substantially increased.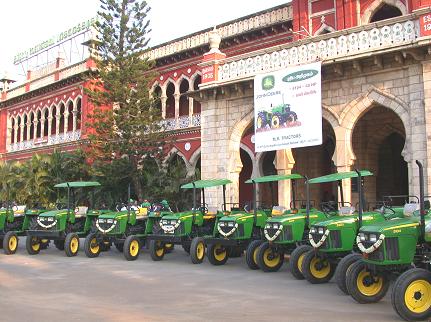 Tractors Purchased ICAR Mega Seed Project
Revolving Fund
Under ICAR Mega Seed Project, revolving fund has been allotted to 12 centres for seed production of agricultural and horticultural crops. By utilizing the revolving fund, all the seed production centres are engaged in the production and distribution of quality seeds to the farmers.