QUALITY SEED PRODUCTION IN COTTON HYBRIDS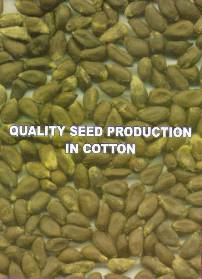 The main aim of hybrid seed production is to produce seeds of high vigour and viability. Cotton hybrid seed can be produced by emasculation and dusting (i.e.) hand – pollination method. In this method emasculation of the female parent in the evening and pollination of the same on the morning of the next day with the pollen from male parent. The resultant seed is hybrid. For sowing every time we have to cross and the resultant seeds are alone used.
Land selection
Soil texture and fertility of land should be according the requirements of seed crop. The land should be free from volunteer plants, weed plants and other crop plants. It should be comparatively free from soil borne diseases and insect pests. In the preceding season the same crop should not have been raised. If so, irrigate the field well in advance and allow the self sown seeds to decay which left in the pervious season. Select land with good soil fertility and drainage facility.
Isolation distance
Cotton is an often crops pollinated crop and the extent of natural crops – pollination depends upon insect activity. A minimum isolation distance of 50 metres for foundation seed class and 30 metres for certified seed class production, from fields of other varieties of the same species, other species and field of the same variety not conformity to varietal purity requirements for certification, is necessary. By isolating two fields, out crossing between varieties can be prevented so that genetic purity is maintained.
Seed rate
Female - 2.00 kg/ha ,Male - 0.5 kg/ha

Sowing
Sow the female and male seeds in a planting ratio of 8:2. Cotton hybrid sowing is different from other hybrids sowing. In other crops male sowing is followed by female sowing as per the planting ratio. But in case of cotton sowing it is based on the area of sowing. For example if we are raising 1 ac. means 80 cent is sown under female and male is sown in the remaining 20 cents leaving 5 m distance between two lines. This method of sowing is called block system. For hybrid seed production sow the female line at 3rd week of August and sow the male line (SB 289 E) at three different dates (i.e.) first sowing at the time of female sowing; 2nd sowing 10 days after 1st sowing and third 20 days after first sowing. Whereas for TCHB 213 hybrid seed production, sow the male line (TCB 209) at 1st week of August and the female line (TCH 1218) at 10-15 days after sowing. By this we can achieve perfect synchroisation (i.e.) uniform or simultaneous flowering in both the lines
Hybrid seed production field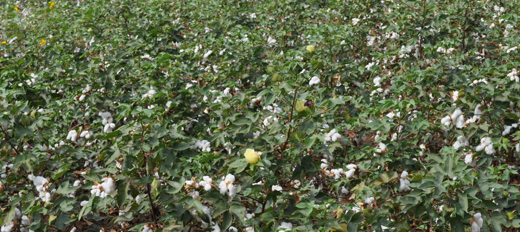 Male plant
Female plant
Spacing
Male : 60 x 45; 190 x 60 cm
Female: 120 x 60 cm
Fertilizer
Apply 10 ton. of FYM / ha. Chemical fertilizers can be applied in following split doses:
Ammonium sulphate (kg)

Super (kg)

Potash (kg)

Basal

250

300

80

1st top dressing
(60 DAS)

62.5

-

-

II Top dressing
(90 DAS)

62.5

-

-
Foliar application
To get high vigour well filled seeds apart from basal application foliar application is also to be adopted. Spray DAP 2% solution on 70, 80, 90 & 100 DAS. This will increase the seed size, weight & yield. In order to increase pollen production and viability of the pollen and increased longevity in male line spray Boric acid 100 ppm (100 ml in one liter of water) on 75 & 90 DAS to days after sowing.
Roguing
Adequate and timely roguing is extremely important in seed production. They should be removed at the earliest possible date before flowering. It is wise to remove the whole plant and not just the flower by hand. Some times there may be differences in crop growth, variation in height, flowering duration and maturation etc., some plants flower very early and some pants flower very late. If he variety used is genetically pure there won't be any variation in the filed. If variations are observe it is mainly due to genetic contamination (or) admixture of varieties.

Because of these variations seeds after harvest can not be used for further sowing and such field will be rejected for seed production weed plants will compete with seed crop for space, nutrients etc., seeds of weeds get mixed with crop seed easily. In order to avoid all these defects plants which are deviating from the concerned variety / hybrid on morphological characters should be rouged out. Remove all the diseases pest infested plants form seed production plot.
Stages of crop growth and characters looked into for rouging
| | |
| --- | --- |
| Stages of crop growth | Characters looked into |
| Vegetative | Height, colour of vegetation, leaf size, colour, shape and orientation, stem colour and diseased plants. |
| Flowering | Leaf flowering, corolla colour, pollen colour, flower stalks, petal spot, bracts shade and pigmentation |
| Harvesting | Based on boll size, shape, colour, beak, texture and pittings. |
Some important techniques
Cotton hybrid seed production method is different from the hybrid seed production methods. The technique involved is emaculation and dusting. Emasculation and dusting is an important operation. The emasculation is done in the female line. At the time of flowering in hybrid seed production for emasculation select the flower buds in female line which will opened on next day. Remove calyx, corolla and androecium without damaging the stigma and style, cover the emasculation flowers with red colour paper bag, to avoid cross pollination.

Emasculation should be done in the evening between 3.00 p.m – 6.00 p.m Emasculation should be done in all the flowers. Next day morning dust the emasculated flowers with pollen collected from male line. Dust the pollen uniformly on all the sides of stigma. Remove the red cover and cover the dusted flower with white colour paper bag. Dusting can be done between 9.00 a.m. to 12.00 noon. Pollen collected from one male plant is sufficient to dust 5 female flowers. Dusting can be continued upto 9 weeks from commencement of crossing.

Emasculate and dust as possible all buds appearing during the first six weeks of reproductive phase to ensure good setting and development of bolls. Emasculation should be complete and perfect, choose optimum size of bud and avoid too young or too old buds for emasculation. Remove all the opened flowers in the next day morning i.e. before dusting (not dusted flower buds) immediately to avoid admixtures. Rain touch cotton or hard locks should be picked and kept separately to avoid poor germination of hybrid seeds.
| | |
| --- | --- |
| | |
| Female flower bud | Emasculated flower bud |
| | | |
| --- | --- | --- |
| | | |
| Emasculated flower bud covered with redpaper cover | Dusting | Stigma after dusting |
Gin the crossed kapas in separate gins created in seed processing units or farm gins under the close supervision of the authorities concerned to ensure purity and avoid seed damage.
Irrigation schedule, pest and disease management and pinches of terminal shoots are similar to that of varieties.
Harvest
Harvest of cotton seed bolls should be done at the correct stage. The harvest is similar to that of variety. The bolls collected from the female plant alone are hybrid bolls while picking itself we came to know where the harvested boll is a hybrid one or not.
Seed processing
During seed processing the immatured ill-filled broken spoiled seeds other crop seeds, inert mater are removed. The seed separation based on density using specific gravity separator result in good quality seeds.
Proper cleaning should be done before operation of any equipment each time before the processing of each variety otherwise physical admixture will occur.
Seed storage
Seed storage is another important area next to seed production. Seed storage is the period of preserving the quality of seeds in terms of germination and vigour until the next planting season.
Seed moisture
The initial moisture content of the seed is very important which decides the longevity of seeds. Seeds stored with high moisture content will loose viability very shortly under storage. Seeds dried to 10% M.C. and packed in gunny bag or cloth bag can be stored for a shot period. For long term storage seeds should be dried to 6% moisture content and packed in moisture vapour containers.
Seed treatment
Before storing, seed can be treated with any fungicide. Seeds can be treated either with captan or thiram @ 2 g/kg of seeds. Halogenation is another seed treatment method. Calcium oxy chloride and calcium carbonate are mixed at equal proportion and placed in a container for a week. The mixture can be used @ 4 g kg of seeds. This is cost effective, safe and ecofriendly method of seed treatment.
Containers
Seeds are hygroscopic in nature. Hence based on the existing environmental conditions seeds can absorb or let the moisture. In humid and coastal area it is better to use moisture vapour proof containers (700 gauge polythene bags). Always use fresh bags.
Care should be taken while staking. The seed bags can be stacked to a maximum of 6 or 7 bags only otherwise seeds in lower bags get affected due to over pressure. Stake the bags over wooden pallets / Tarpaulin. Bags should not come in contact with side walls or floor.
Field standards
Particulars

Maximum (%)

F.S.

C.S.

Off-types (Female parent)

0.1

0.5

Off-types (male parent)

0.1

0.5

Seed standards

1. Pure seeds (min)

98%

98%

2. Inert matter (max)

2%

2%

3. OCS (max)

5/kg

10/kg

4. Weed seeds (max.)

5kg

10kg

5. Germination (min)

65%

65%

6. Moisture content (max)
Cloth bag

10%

10%

Moisture vapour proof container

6%

6%
Varietal characteristics
Character

MCU 5

MCU 7

MCU 9

MCU 10

MCU 11

1.

Parentage

Multiple crops

X ray irradiation of L 1143

MCU 8 x MCU 5 hyrbid derivative

Istmma irradiation of MCU 4

MCU 5 x egyptima hybrid durative

2.

Duration (days)

165-170

130

160-165

150-160

150-155

3.

Plant ht (cm)

90-100

100-110

85-100

50-60

90-100

4.

Leaf colour

D green

Light green

Small dark

Green

Green

5.

Petal colour

Puff colour

Light yellow

Puff colour

Puff colour

Puff colour

6.

Pollen colour

Yellow

Puff colour

Puff colour

Yellow

Puff colour

7.

100-seed (g)

10-1

7.0

10.4

10.2

7.0 wt.

8.

Boll shape

Medium elogated smooth

Pitted

Medium elcogy smooth

Medium big elonga cod

Medium round

9.

Stable length (mm)

29.0

25.0

29.0

25.0

27.7

10.

Ginning %

34

33.2

36

37

34.6

11.

Counts

70

40

70

40

50-60
Character

MCU 12

TCHB 213

ADT 1

K 10

1.

Parentage

LRA 5166

TCH 1218x

It is a selection for Tome 37 h

K 9 x 11876 hybrid derivative

2.

Duration (days)

150-155

165-175

120-125

140-145

3.

Plant ht (cm)

100-110

160-180

90-100

130-140

4.

Leaf colour

Dark green hairy

Dark green big bairy

Dark green thick

Dark green small yellow

5.

Petal colour

Puff colour

Light yellow

Light yellow

Yellow

6.

Pollen colour

Yellow

Yellow

Light yellow

Yellow

7.

100-seed (g)

9.7

12.0

8.6

6.0

8.

Boll shape

Medium round to oval

Medium to large

-

Small to medium beaked

9.

Stable length (mm)

28.2

32.8

23.6

23.9

10.

Ginning %

34.8

32.0

33.9

38.0

11.

Counts

60

80

40

30
Characters of parental line of hybrids
Characters

Varalakshmi

Jayalakshmi

Laxmi

SB 289 E

TS 28

SB (YF) 425

1.

Plant height

100-125

160-200

120-150

200-250

2.

Plant type

Short

Tall

Short

Tall

3.

Leaf colour

Light green hairy

Dark green

Dark green hairy

Dark green

4.

Detal colour

Yellow

Puff colour

Puff colour

Yellow

5.

Pollen colour

Puff colour

Yellow

Yellow

Yellow

6.

Petal spot

Absent

Present

Absent

Present

7.

Boll shape

Small, round pointed smooth

Oval, pointed pitted

Round, smooth

Round to oval large pointed

8.

Ginning (%)

32-24

-

-

-

9.

Seed

Small to medium fuzzy

Naked

Fuzzy

Naked