TNAU Seed Production activities
1. Nucleus seed production
Nucleus seed is the basic seed produced under the strict supervision of concerned crop breeder. Nucleus seeds are produced in different seed production centres of TN AU with better management to obtain higher quantity and quality of seeds. In case of high volume seed crops, one more stage of basic seed multiplication is carried out under the strict supervision of concerned crop breeder in order to get the required nucleus seeds. Nucleus seeds serve as basic material for breeder seed production.
2. Breeder seed production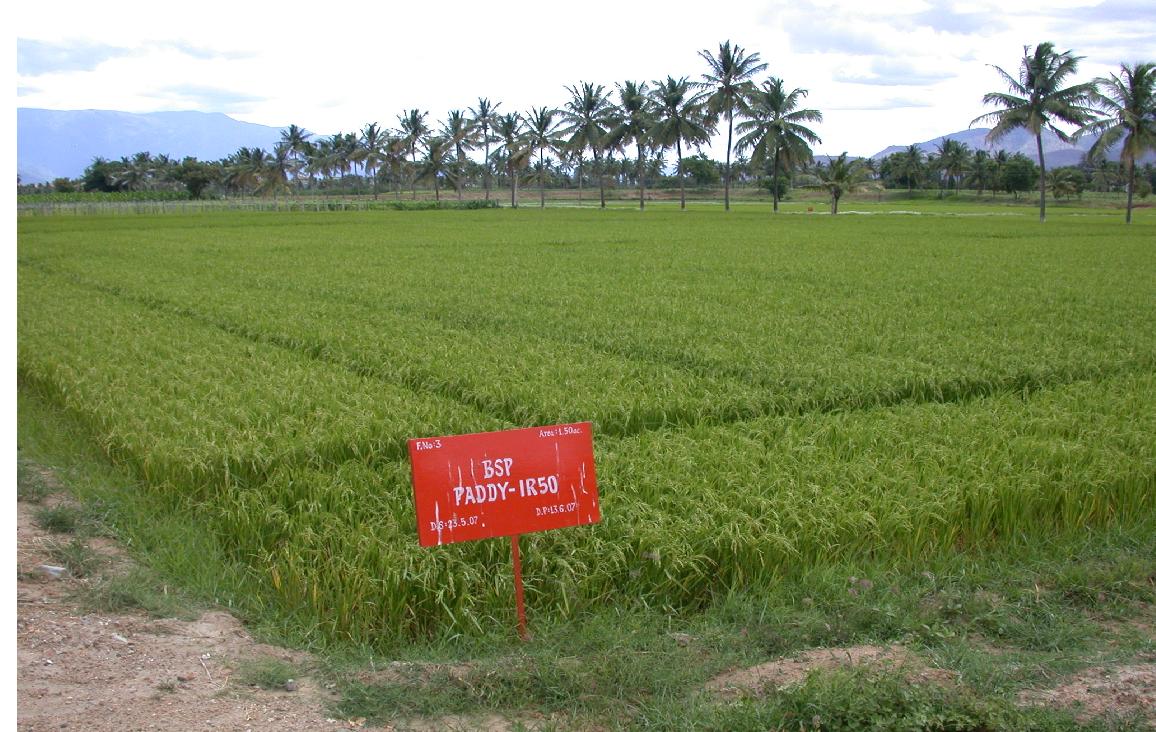 To meet the increasing demand for production and supply of high volume low cost seed crops like cereals, pulses, oilseeds, cotton, forage crops and vegetables, etc., breeder seed production has been increased substantially based on the demand of the crops. Breeder seed production is being taken up in 33 Breeder Seed Production centres for approximately 175 varieties of different crops.
3. Foundation and University Labelled seed production
Foundation seed production has become an important activity with significant enhancement in the quantity of seeds produced that has helped to supply genetically pure seeds to many public/private producers for further seed production and supply.
Seed production centres
The high yielding varieties of certified and truthful label seeds produced at Tamil Nadu Agricultural University are kept under sales for the following research stations. The farmers are requested to contact concern Professor and Head of the research stations for obtaining following seeds.
Crop

Variety

Contact address and Phone number

Certified seeds
Rice
ADT 45,I.W. Ponni
Agriculture College & Research station,
Madurai. Ph. 0452 2422956
Rice
ADT 36
Agriculture College & research Station, Killikulam. Ph. 04630 261226
Rice
I.W. Ponni
Agriculture College and Research Station, Tirchi. Ph. 0431 2690692
Truthfully labeled seeds
Rice
ADT 36, ADT 39, ADT 46, CR 1009
Tamil Nadu Rice Research Station, Adudurai
Ph. 0435 2472108
Rice
ADT 39, ADT 43,ADT (R) 45,I.W.Ponni,4
Agriculture College & research Station, Killikulam. Ph. 04630 261226
Daincha
-
Ridge gourd
CO 1
Regional Research Station, Paiyur. Ph. 04343 250043.
Rice
ADT 39, ADT 42, ADT(R) 48, CO43, CR 1009,I.W. Ponni
Soil and Water management Research Station, Tanjavur. Ph. 04362 267680
Rice
ASD 18
Rice Research Station, Ambasamudram.
Ph. 04634 250215.
Rice
CR 1009, I.W. Ponni
Vegetable Research Station, Palur. Ph. 04142 275222
Rice
TKM 9, I.W. Ponni
Rice Research Station, Tirur.
Ph. 044 27620233
Rice
TPS 4
Agricultural Research station, Tirupathisaram,. Ph. 04652 276728
Rice
TRY 1
Agriculture College and Research Station, Tirchi. Ph. 0431 2690692
Black gram
VBN 4
Regional Research Station, Viruthachalam. Ph. 04143 238231
Black gram
VBN 3, VBN 4
National Pulse Research Station, Vamban. Ph. 04322 205745.
Green gram
VBN 2
Cowpea
VBN 1
Sunflower
DCSH 1
Department of Oil seeds, TNAU, Coimbatore-3. Ph. 0422 6611292
Sunhemp
-
Sugarcane Research Station, Melalathur.
Ph. 04171 220275.
Moronga
PKM 1
Department of Vegetable crops, Horticultural College and Research Station, Coimbatore-3. Ph. 0422 6611283
Bhendi
Arka anamika, Co (BH) H1
Bottle gourd
CO 1
Brinjal
PKM 1
Chiili
PKM 1
Lab lab
CO 1
Pumpkin
CO2
Ridge gourd
PKM 1, PKM 2, CO 1
Tomato
CO 3
Bhendi
Arka anamika
Vegetable Research Station, Palur. Ph. 04142 275222
Ashgourd
Co1
Bittergourd
CO 1
Snakegourd
White Kuttai
Greens
A 8, CO 5.
Brinjal
KKM 1
Agriculture College & research Station, Killikulam. Ph. 04630 261226
Chilli
KKM(CH) 1
Rice
ADT 43
Cotton Research Station, Srivilliputhur. Ph. 04563 260736
Cotton
BA 255
Agricultural Research Station, Kovilpatti. Ph. 04632 234955.
Fodder sorghum
CO FS 29
Department of Forage Crops, TNAU, Coimbatore-3. Ph. 0422 6611228
Cowpea
CO(C) 8
Fodder sorghum
APK 1
Agricultural Research Station, Virinjipuram. Ph. 0416 2272221.
Greens
CO 1
The Professor & Head, Agricultural Research Station, Vaigai dam- 625 512.
Ph. 04546 244112.
Bhendi
Arka anamika
Horticultural College & Research Station,
Periyakulam. Ph. 04546 231726/234661
Tomato
PKM 1
Ridge gourd
PKM 1
Onion
CO(ON) 5
Pumpkin
CO 2
Greens
CO 1
Chilli
PKM 1