Vetri Self Help Group, Podanur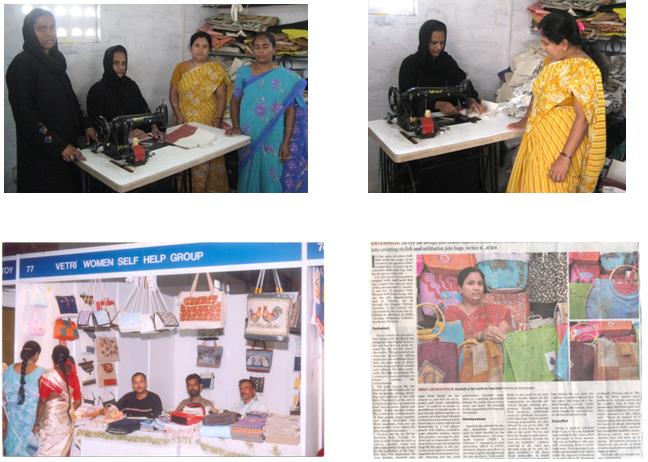 Vetri self help group, Podanur is one of the successful group the entrepreneur. Mrs.Anarkali and her 12 members run the Jute Manufacturing Unit at Podanur, set up through mahalir thittam initiative of the district administration. The team has successfully run one jute bag shop at Poomalai Vaniga Valagam, Coimbatore. They have exhibited their products in Delhi, Chennai, Bangalore, Kolkatta, Kochi and Madurai.
SGSY and Self Help groups in Kanyakumari
Rural poor are getting organised in Kanyakumari district. There are 7000 Self help Groups in the district, involved in a variety of income generating programmes. Myths are being proved wrong, that the rural poor can not save. They have together saved more than Rs.3.5 crores, the immediate credit needs are being met, not from money lenders, but from their own savings. Rural products from the district, including handicrafts comes to Rs. 20 crores a year. One single craft, banana fibre comes to Rs. 2 crores a year. The product range is vast. Rural women can now complete their household work and also earn an income sitting at home. More than thirty crafts are being made use of in handicrafts alone.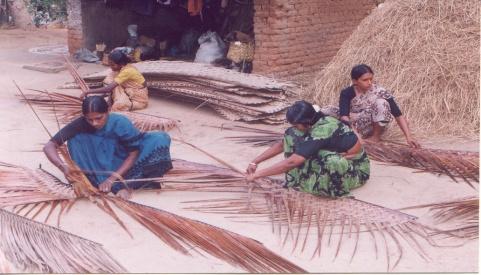 After the launch of the Swarnjayanthi Gram Swarojgar Yojana large number of groups have accessed Revolving Funds, with a subsidy from government and another bank loan component Rural unorganised women are now making use of formal banking sector, accessing credit, managing their own units Training is given in various essential areas of management, new technologies are introduced, programmes constantly monitored .Most of the activities are taken up as cluster activities, more than one person involved in the work, giving the participants better mutual, and external support . One of the areas doing well in the district is Kattimankode Panchayat. Here the local Panchayat, NGOs, banks and the government agencies have come together making the SHGs viable production units and credit agencies.
There are various activity clusters here, Agarbatti, Palm Fibre Brushes, Tapioca products, Coconut Leaf Thatch, tamarind processing are among the many activities . Panchayat has a population of 6585 people and almost half of them from Below Poverty Line families. This Panchayat has a total of 92 SHGs. In one village Sreekrishnapuram there are four activities giving meaningful employment to the local women The SHGs namely Thulasi, Nagapushpam, Parijatham and Marikulunthu, attached to a local NGO Nala Oli have all received revolving funds of Rs. 25,000 each. They are now poised to take economic assistance for their own independent units, of Rs. 1.5 lakhs.
Another village in the same Panchayat, Cheruppankode, processes tamarind, linked to the NGO Malar they are able to get Rs. 25 to 30 per day using their spare time. At Arasarkonam the women make palm fibre brush earning a reasonable income. Here again they are now able to do the work better with the subsidy cum loan component given under SGSY. The local banks, Primary Agricultural Cooperative Bank and the Central Bank of India have advanced to loans, DRDA has been the motivating force. The local Panchayat President taking an active interest.
Out of the 92 groups, 34 have received revolving funds and more are in the process, many of them are also to get the economic assistance for their own production units. The women are now empowered to take on their problems Kattimankode is only one of the many Panchayats in Kanyakumari heading for progress, from local resources and skills.
RICH PRODUCTS FROM THE POOR HANDS
Self Help Groups in a Kanyakumari Panchayat- Mullankinavilai
Mullankinavilai is a Panchayat in Killiyoor Block of Kanyakumari district. President of the Panchayat takes interest and has been very active in forming Self Help Groups of various sectors.
Panchayat has a population of 4713 people as per 1991 census and the latest unofficial estimates put the number at 6010 in 2001. There are approximately 25 Self Help Groups 17 of them attached to an NGO called PASA. With a relatively high density of population there is unemployment and poverty and a large number of men-folk migrate as construction labour.
There are many home based activities here, something unique to Kanyakumari. These are making of lace products, embroidery, ready-made clothes, palm leaf containers, bee-keeping and honey processing. There are many granite-quarries in the area and there is a Self Help Group of quarry workers.
Lace Mahalir Mempattu Thittam makes,as the name says, Lace. They are able to get on an average Rs. 600/ to Rs. 1000/ a month from this activity. This group of twenty members from Below Poverty Line (BPL) families were doing the same work as individuals earlier, when they were earning up to Rs. 400 maximum, often less. They have recently received Rs. 25,000 as revolving fund and a loan from the Swarnjayanthi Gram Swarozgar Yojana scheme and are now aiming at higher goals. Tells Maria Monica, Cluster Co-ordinator of the NGO PASA 'With more money we are able to procure more raw materials and produce more. The members are competing with each other to produce more now'.
Not far from here in the same Panchayat is another SHG which makes breath takingly beautiful hand embroidery. Called Ettani Mahalir Mempattu Thittam, also attached to PASA which has received the Revolving Fund of Rs. 25,000. However the money has been used up for paying off individual loans, clearing indebtedness. Saroja leader of the group and a gifted artist tells that they can sell any amount of products if they have enough money to make more. At the moment the members are earning on an average Rs, 1000 to Rs. 1500 a month spending only their spare time.
At Muchanthivilai further ahead there is another group making ready-mades and laces . This SHG named after the place and attached to the same NGO PASA has received a revolving fund of Rs. 25,000. The money was distributed among the members and according to them most of them used the money to pay off old debts. The interest rates are high and as per them an amount of Rs. 10,000 taken on loan needs to be paid an advance interest of Rs. 1000/ for hundred days, the loaned getting only Rs. 9000. They are now getting an income of Rs. 500/ to 600/ now mostly from surplus time.
There is another SHG of quarry workers in Mullankinavilai formed at the initiative of the Panchayat President, mostly of men. But this group is yet to receive revolving funds and is only three months old. Y Swamidas, leader of the SHG is looking for other groups to receive revolving funds and other help so that they can also go in for more aggressive work. They plan to have a small compressor installed here.
Ettani Then Valarpu Mempattu Sanghom another SHG rears honey bees and sells the honey. There is a meticulously planned system of keeping boxes at far away places, like interior Kerala, then near by places according to season and selling the proceeds. This group has not been attached to any NGO and they are yet to get revolving funds though they are more than eight months old. They are to approach the government soon.
Says M. Prabha, the Panchayat President. 'I want to be first in the district in forming SHGs.' But there are complaints also. Some of the men were found complaining that the programmes are all centered on women. They have been neglected they said. The changes in this village panchayat are giving hopes but the problem of poverty does not seem to be fully addressed, at least not yet. More inroads and the changes may become more discernible.
A CASE OF AN SGSY ACTIVITY CLUSTER- SILUVAI NAGAR, KOVALAM -
RICH CRAFT OF THE POOR HANDS
The Background
Siluvai Nagar is at the southern tip close to Kanyakumari, a fishermen hamlet in Kovalam panchayat. Around 100 fishermen families live here, mostly in thatched cottages. Though they are traditionally dependent on fishing, using traditional crafts, the families are extremely poor. When the fish catches are poor or when it rains the fishing activity comes to a halt and the community finds it difficult to meet their day to day needs. This also leads to indebtedness. The women go for vending fish or when there is no catch idle away their time. They were dependent on money lenders for daily needs, eroding whatever profits they got. The place had social problems like group fights, mainly due to poverty and unemployment.
Approach Adopted :
The Kanyakumari based NGO Stella Maris entered the village forming women Self Help Groups. The members of the SHGs started saving Rs. 10/ per week and meeting weekly to discuss matters. Being close to the Kanyakumari tourist centre, the Siluvai Nagar SHGs could market Sea Shell Crafts, which have a ready market and the NGO gave training to the women to start Sea Shell Crafts. This because of the possibility to do the work in spare times, sprang up in all houses in a short time making it an activity cluster. With the weekly savings they were now able to meet their small needs not always having to go for money vendors everytime.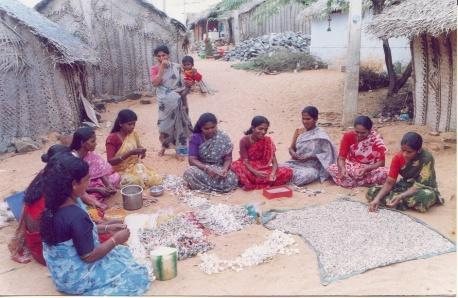 Socio-economic Profile :
The 20 odd women members of Siluvai Nagar SHG have now saved Rs. 17, 000, a big sum for the small community. Together with the revolving fund received under SGSY they are now circulating Rs. 46, 150 among themselves as internal credit. With the money available they are now able to purchase the requirements of raw sea shells for their crafts and the products range includes sea shell garlands, door curtains, lamp shades, shell ornamental mirrors and other items. These products are then taken to the Kanyakumari beach and sold to the tourists. The products are also sold to shop owners at Kanyakumari at other places.
Results and Future :
With more money available for purchasing sea shells and other raw material they shall be able to make more products and in more quantity. It may also be possible for them to diversify in to new areas, where the NGO Stella Maris is making all efforts. The process of community organisation in Siluvai Nagar was not easy according to the NGO as the coastal people were aggressive and weaning them away from the old habits was difficult as well. Both were successfully achieved by the NGO Stella Maris. With the District Rural Development Agency, banks and the NGO coming together under SGSY the rural poor women of Siluvai Nagar are at last able to come out of their chronic poverty. With sustained inputs they may achieve better qualities of life in the future. Published by Project Officer, District Rural Development Agency (DRDA) Kanyakumari

TRIBAL SELF HELP GROUP
A Success Story of SGSY from Tribal Areas of Kanyakumari
Pechiparai Panchayat in Kanyakumari district is high in the Western Ghats. The Panchayat has a population of 2500 Kanikkar tribals living scattered in around 24 forest settlements. Spread around the huge Pechiparai reservoir, built around hundred years back, the settlements coexist with wild animals like elephants, tiger, bear, wild boar and other animals. Caught up between the traditional forest dependent life styles and modernism these tribals are in a transition.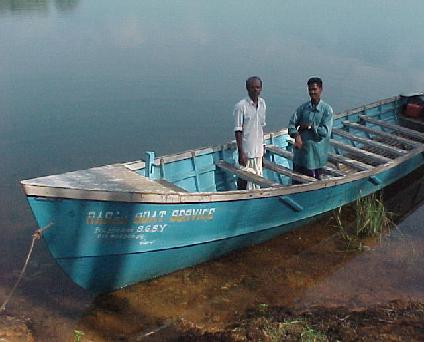 With education reaching them they are now claiming for better facilities. One among them, S. Rajan, a post-graduate, is now the Panchayat President by virtue of the post being reserved for Scheduled Tribes. The new generation refuses to remain in their olden day stagnation.
It was a long pending demand of the Kanikkar living around the Pechiparai reservoir that they be given a mechanised boat. ' A century old demand, unmet so far' according to them. For the land locked settlements found it difficult to reach the outside when the dam was full. The children could not attend school and the sick could not be given medical help. By country boats it took more than two hours to ferry across. They made their demand to a team of visiting officers, taken there at the initiative of the District Rural Development Agency (DRDA).
Project Officer, DRDA Kanyakumari district agreed to consider the genuine demand under the newly launched Swarnjayanti Gram Swarozgar Yojana (SGSY). Accordingly a Self Help Group of five members, required under the scheme, was formed and a grant of Rs. 90,000 released. An equal bank loan component was facilitated and a mechanised boat purchased. The five members were also given training in operation and maintenance. The loan was to be paid back through a period of five years.
Initially the group started ferrying passengers, which included workers going to the estates within the forests apart from the tribal people, and conducting trips for tourists coming to Pechiparai dam. On one side settlements in far flung areas could now reach out in no time and the group operating the service started earning a net profit of Rs. 10,000 a month. Most important was the help rendered to the school going children who could not attend school so far with inadequate facilities. But the group soon found that the regular ferrying of school children was costing them dear as more and more children started availing the facilities and their parents were unable to pay the money, abysmally poor as they were.
The 'Bee Self Help Group' , which operates the boat service approached the DRDA demanding travel concessions for the tribal school children. The matter is being taken up by DRDA at the appropriate levels of government. Meanwhile there is jubilation among the Kanikkar tribals.