Root-knot nematode, Meloidogyne incognita
Root knot nematode, Meloidogyne incognita is a obligate, sedentary endoparasites. M. incognita is one of the major constraints in the production of tomato in tropical and subtropical regions. It causes 11 – 35% yield loss in tomato. Root knot remains a serious issue in both nursery and field conditions.
Mode of spread
Seedlings or planting materials, irrigation water and farm implements.
Symptoms
Above ground symptoms
Infested seedlings may not survive after transplanting.

Stunted growth of the plants.

Disease appearance in patches under field conditions.

Leaves show chlorosis and yellowing.

Growth may be retarded.

Plants show "Day wilting" symptom.
Below ground symptoms
Primary galls are small and induced by swelling which coalesce to form larger secondary gall s/ knots on the root.

Root system is reduced to a severely galled and a completely disorganized vascular system.

Sometimes the galled tissues are invaded by secondary pathogens and results in root wilting.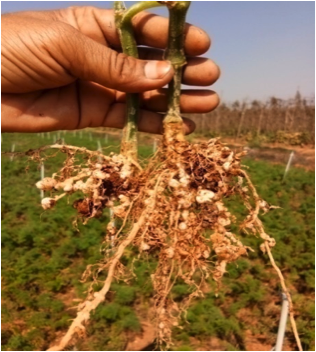 Root knot galls on tomato