Breeder Management
The layer breeder management is more or less similar to the management of commercial layers.
Since the parent stocks are costly and their hatching eggs and pullet chicks fetch higher income, more care has to be taken on parent stock, to generate more profits.
Moreover, in parent stock management, the management of male breeding stock and the hatchery are additional activities, to be carried out more carefully.
Rearing systems and space requirements
The layer parent stock can be reared successfully on deep litter, slats, slat cum litter or in breeder cages.
The floor space requirements will be 1860 cm2 in deep litter, 1400 cm2 on slat/wire floor and 450 cm2 in cages for females and 700 cm2 in breeder cages for male breeders.
Males and Artificial Insemination
Day old male parent chicks are supplied dubbed and detoed. Males are reared separately from 0-21 weeks of age.
Start with 12% males in case of natural mating and 8% in case of artificial insemination.
At the beginning of the breeding season (22 weeks), introduce 8 males per 100 females.
Replace weak, lame and sick males promptly. In case of A.I. maintain at least 5% males which can yield about 0.5 ml neat semen per ejaculate with not less than 60% motility.
Inseminate females once in 5 days, with 0.03 – 0.05 ml of neat semen; within 30 minutes after collection.
Debeaking
Both males and females are debeaked at 10-14 days of age and again at 12-14 weeks of age.
For females, leave 2mm beak from the nostrils, whereas for males, cut half of the beak between nostrils and tip of the beak.
Both upper and lower beaks are cut off straight. Give vitamin K in water 1 day before debeaking and electrolytes for 2 or 3 days from the day of debeaking.
Vaccination programme and health care
It is more or less similar to the programme followed for commercial layers.
The programme varies from place to place and time to time, depending on the prevalence of diseases in the area.
The only difference will be, killed vaccines are given, for diseases like N.D., I.B.D., I.B., REO and M.G., before the onset of egg production.
Sometimes, N.D., I.B.D. and I.B. killed vaccines are repeated at 45 weeks of age in problematic areas, to increase the maternal acquired immunity in the chicks. Fowl cholera vaccine has to be given at about 10 weeks of age in endemic areas.
Moreover, the flock has to be tested for Mycoplasma and Salmonella at around 16 weeks of age, to eliminate the positive reactors.
Deworming will be done every month or once in 6 weeks in deep litter system and once in two months in case of cage and slat reared breeders.
LaSota vaccination will be invariably followed after deworming.
Feeding
The feeds given to layer parents will be more or less similar to that of commercial layers in respect of major nutrients.
But the breeder feeds, especially the breeder hen feed is enriched with all micronutrients like trace minerals and vitamins in order to obtain high rates of fertility and hatchability besides peak egg production.
Moreover, the breeder feeds must be practically free from all mycotoxins, because mycotoxins will not only affect the egg production and health status of the birds but also fertility and hatchability.
Sex separate feeding
The breeder males must be fed with a low protein diet having 13-14% protein only because high protein diet will affect sperm quality as well as semen volume.
Therefore, sex separate feeding of breeder hens and cocks will be followed.
The females will be fed a 18% protein and 3.0 to 3.5% calcium feed while the cocks with 13-14% protein and 1-1.5% calcium feed with higher levels (40mg/kg) of vitamin E; on other aspects, both the feeds are comparable.
The male and female feeds are offered in separate feed hoppers in slat and deep litter system. In cage system, sex separate feeding can be followed with 100% accuracy since they are reared in different cages.
Uniformity
Flock uniformity is a major goal to be achieved in breeding flock management for peak egg production, less number of culls and more uniform sized chicks.
From 4 weeks of age, group the chicks according to body weight.
The weak chicks should be taken extra care for attaining uniformity.
At any stage, the flock must be having at least 80% uniformity.
Hatching egg collection and care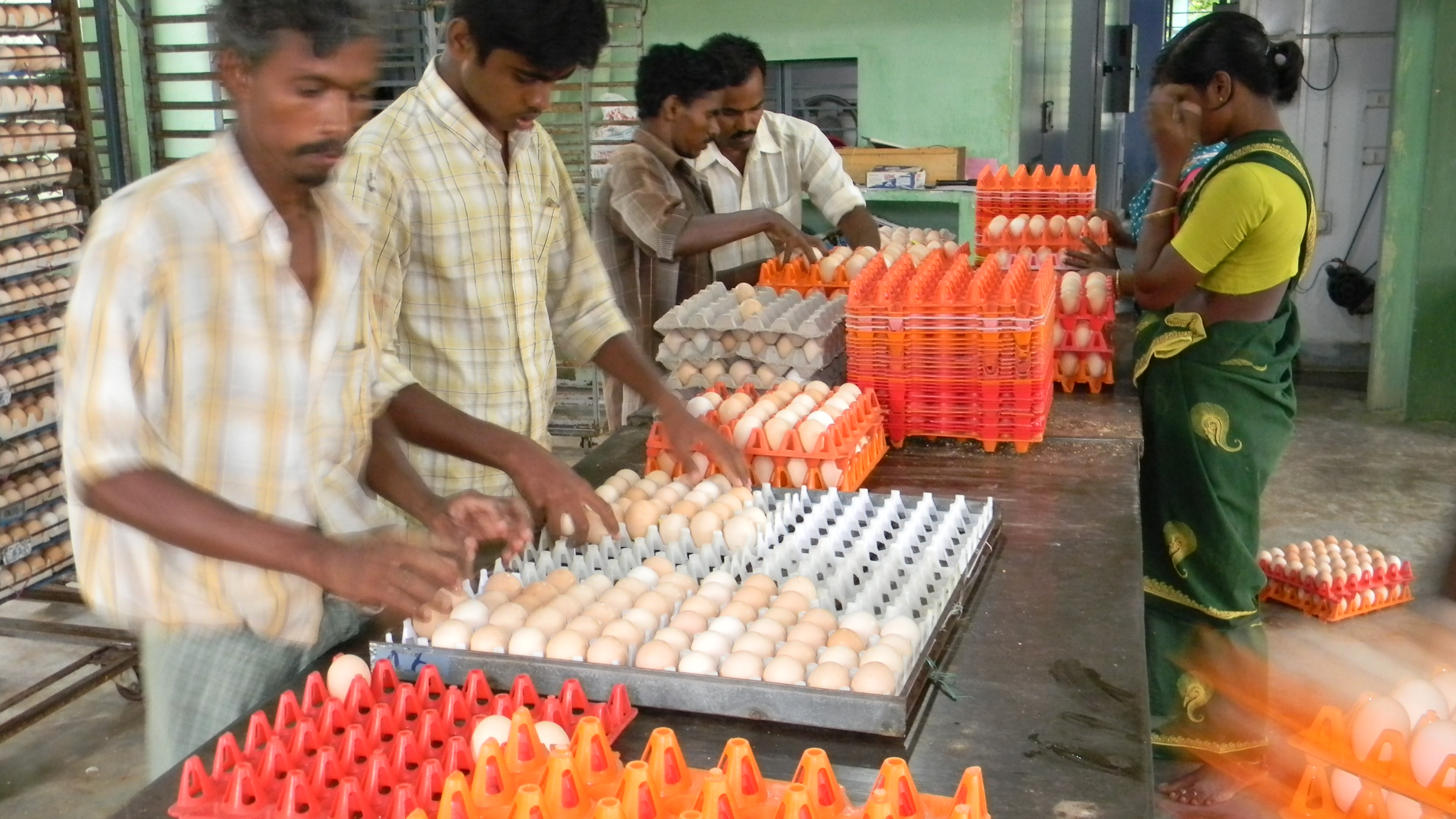 In slat or deep litter system, keep nest boxes at the rate of one hole for 4 to 5 hens at 18-20 weeks of age. Close the nest holes during night time, to discourage broodiness and soiling of nest material.
Introduce males around 22 weeks of age at 8 cocks/ 100 hens or as per the recommendation of the principal breeder.
Collect hatching eggs when they reach at least 48-50g weight or from 25 weeks of age whichever is later.
Collect eggs at hourly interval during forenoon and once in 2 hours in the after-noon in deep litter and wire floor sheds. In cages collect eggs 2 or 3 times a day.
Separate clean, soiled dirty, broken, misshapen and abnormal eggs soon after collection.
Save clean eggs with sound shell, shape and size for hatching; without any cleaning.
Dry clean soiled eggs with the help of a sand paper, dry cloth or cotton and also save them for hatching.
Do not practices wet cleaning of eggs. Discard other eggs which can be sold for table purpose.
Fumigate hatching eggs with formaldehyde gas at 3 X concentration and store in an egg store room, until 6 hours before setting.
Do not store hatching eggs for more than a week. In case of cage system, netlon or rubber mat is placed over the cage floor to prevent hair cracks (checks) in hatching eggs. Otherwise, plastic coated steel mesh is used as cage bottom.
Hatchery operation and sanitation
The eggs are set according to the demand or order for pullet chicks.
Depending upon the size of the hatchery, the eggs are set 1 to 6 times a week. Set 250 eggs for every 100 pullet chicks required.
The remaining hatching eggs may be either sold as hatching eggs for other needy hatcheries or sold for table purpose.
The cockerel chicks produced may be either sold for specialized cockerel market or destroyed and recycled in feed as "male chick meal", replacing fish meal.
Discard weak female chicks also, weighing less than 32 grams.
Unlike the old design, the modern hatcheries locate the tray cleaning room etc., atleast 30 m away from the main hatchery, on sanitation grounds.
Production targets and standards
The recommended body weights, feed consumption, egg production and mortality are reported in table.
But these values vary marginally from strain to strain. The breeder must aim at achieving these targets for optimal profits.
Nutrient requirements layer breeder of different age groups

(Age in weeks)

Chick
(0-8)

Grower
(9-15)

Pre-layer
(16-18)

Layer Phase-1
(19-34)

Layer Phase-2
(35-72)

Protein (%)

20.00

17.00

17.00

19.00

17.50

M.E. (Kcal/kg)

2750

2550

2550

2550

2500

Linolenic acid (%)

1.40

0.10

1.20

1.40

1.20

Lysine (%)

1.10

0.80

0.80

0.88

0.75

Methionine (%)

0.50

0.40

0.45

0.50

0.40

Methionine + Cystine (%)

0.75

0.60

0.65

0.73

0.62

Calcium (%)

1.10

1.10

2.50

3.80

4.00

Available Phosphorus

0.45

0.45

0.45

0.45

0.42

Sodium (%)

0.20

0.18

0.20

0.20

0.20

Vitamin A (IU/kg)

20,000

16,000

20,000

20,000

20,000

Vitamin D (IU/kg)

4,000

3,200

4,000

4,000

4,000

Vitamin E (mg/kg)

60

40

60

60

60

Vitamin K (mg/kg)

4.00

3.20

4.00

4.00

4.00

Riboflavin (mg/kg)

20

50

20

20

Production standards for breeding stock
| | |
| --- | --- |
| Trait | Standards |
| No. of sire/ 100 dams in deep litter or slats | 10 |
| No. of sire/ 100 dams in cages | 3 |
| Feed/ bird upto start of egg production (kg) | 6.0 |
| Feed/ hen/ day during laying period (g) | 110 |
| Feed/ cock/ day during breeding period (g) | 100-105 |
| Period of hatching egg production (week) | 24-72 |
| Total no. of hatching egg/ hen (dam) | 260 |
| Total no. of straight run (unsexed) chicks/ day | 230 |
| Total no. of pullet chick/ dam | 110 |
| Total no. of saleable chicks/ dam | 105 (female) |
| Average body weight of day old chicks (g) | 35 |
| Average body weight of male at maturing age (kg) | 1.6 |
| Average body weight of female at maturity age | 1.25 |
| Average body weight of male at culling age | 2.0 |
| Average body weight of female at culling age | 1.5 |
| Average mortality during growing period | 5% |
| Average mortality during laying period | 8% |

Parent stock performance potential

Traits

Male

Female

Body weight (g) at 4 week of age

300

250

Body weight (g) at 8 week of age

725

580

Body weight (g) at 12 week of age

1100

850

Body weight (g) at 16 week of age

1350

1100

Body weight (g) at 20 week of age

1550

1300

Body weight (g) at 40 week of age

2000

1600

Body weight (g) at 72 week of age

2300

1700

Flock uniformity

>80%

>80%

Feed intake (kg) 0-8 weeks

3.0

2.5

Feed intake (kg) 9-20 weeks

4.5

4.0

Feed intake (kg) 0-20 weeks

7.5

6.5

Feed intake (kg) 20-72 weeks

38.0

40.0

Layer feed/ hatching egg (g)

145

Total feed/ hatching egg (g)

188

Mean livability (%) 0-20 weeks

94

Mean livability (%) 21-72 weeks

92

Mean mortality (%) 0-72 weeks

14%

Hen housed egg number
(20-72 weeks of age)

280

% Total hatchability

90

Saleable pullet chicks/ hen housed

110
Fertility Disorders In Breeders
There are a variety of possible causes for fertility disorders, such as improper mating ratios and male body weight control.
The fertility disorders is divided into four egg laying sections - early, peak, mid-lay, and late period.
I. EARLY EGG LAY HATCHES (26-28 WEEKS)
Insufficient number of active males. Four to five active males per 100 females at beginning of mating period are recommended.
Physiological Castration - Some normal appearing males at housing may have been "physiologically castrated" temporarily (or permanently) due to a very stressful event.
Rough appearing and/or non-uniform males at housing. Flock may have an excess of culls, "crow-heads", and small males. Some males may be permanently damaged.
Male Aggression: Frightened females will remain on the slats or hide in the nests, resulting in reduced mating activity. No more than 4-5 active males per 100 females are recommended at the beginning of mating period.
Eggs set before flock is 25 - 25-1/2 weeks old. Expected range of hatchability for eggs set between 24-25 weeks of flock age may be only 65-73% with a fertility Tange of 83-88% - when there are no other complicating factors.
II. PEAK EGG LAY HATCHES (29-39 WEEKS)
Some possible causes for reduced fertility during this period are:

Insufficient Active Males or Male Aggression: The effects of either problem that occurred during the early mating period will generally (but not always) carry through the peak hatchability period.
Reduced Male Feed Consumption: This causes some males to "cull out" while other normal looking males stop semen production due to body weight loss. This can occur when no adjustment has been made in feed allotment for the males when they can no longer "steal" from the female feeders. The average male body weight may actually increase somewhat afterwards due to no energy being spent on sexual activity by these non-productive males - and, thus, goes toward growth.
Insufficient Water Consumption
Disease or Leg Problems.
Crowding (floor space): High bird density in the hen house can affect male mating activity - as well as egg production. A minimum of 1.80 ft2/hen (no more than 6 hens/m2) is suggested in slat floor houses.
Male Feeder Space: Decreased hatch sometimes noticed with 12-13 males per pan feeder versus recommended 9-10 males. Some males may not be able to consume sufficient feed, especially later on with more "timid" spike males.
III. MID-EGG LAY HATCHES (40-50 WEEKS)
Reduced Male Feed Consumption.
Insufficient Water Consumption.
Disease or Leg Problems.
Crowding (floor space).
Male Feeder Space.
Insufficient Active Males - Usually need to "spike" with 2-3% younger males (2-3 males per 100 females) to achieve 8-1/2 - 9-1/2% total males in the flock. Possible causes of insufficient males during this period are:

Overweight males - reduced mating ability.
Bad feet/legs - often weight related.
Ratio reduction - due to male mortality and normal culling.

Male Aggression - See previous suggested causes. The aggressive behavior is often established during the early mating period. One can usually find frightened hens, many with cut backs and flanks, remaining on the slats or hiding in the nests.
Excessive Feather Loss - Hens with tender backs avoid the males by staying on the slats or hiding in nests. This can be caused by a combination of factors such as low feed consumption, borderline or low energy and/or protein (amino acids) in the diet, cold weather (increased energy requirements), etc.
Hot Weather - Both fertility and egg production can suffer.
IV. LATE EGG LAY HATCHES (50-65 WEEKS)
Due to age-related reduced mating activity, semen quantity and quality, etc. a minimum of 9 - 9-1/2% total males should be maintained to have 7-8% active males during this final mating period. Some possible causes of reduced fertility are:

Generally the same causes mentioned during the 40-50 week period carry through this period.
Overweight Hens - Female effect in fertility. This can especially be a problem in hot/humid weather.
Overweight Males - Although mentioned in previous sections, this cannot be over emphasized. The average male weight should not exceed 10 lbs (4.54 kg) - 9.71 lbs to 9.81 lbs (4.40 to 4.45 kg) is better! Individual males weighing more than 11-1/2 lbs (5.2 kg) will probably not be active at this age.
TOP
Selection and Culling of Breeder Flocks
Culling refers to the identification and removal of the non-laying or low producing hens and poor or infertile males from a breeder flock.
Unless the birds are diseased, they are suitable for marketing or home cooking.
Usually males are selected based on its vigor and spermatozoa concentration.
In case of natural mating, the mating ability of the males is important, in addition to its semen quality.
In case of females, their egg production qualities are to be taken into account.
Removing the inferior birds reduces the cost of producing eggs, reduces the incidence of disease, and increases the available space for more productive hens.
Hens eat feed whether or not they are laying. Removing the cull birds will make more feed and space for more productive birds.
Two types of culling are usually used to remove the inferior birds:

sight culling at the time of housing and
culling by individual inspection, which evaluates the bird's ability to lay or her past productive performance.
ARTIFICIAL INSEMINATION
Artificial Insemination (AI) is an important tool to improve the reproductive performance of birds especially broiler breeders and turkey where fertility is low due to heavy body weight.
Eventhough AI is well developed technique in cattle, is not so well developed in poultry because no standard technique is available to store poultry semen for a long period.
The techniques available at present permits to collect semen and use it for insemination immediately with or without dilution using semen diluents at 1 : 2 ratio. Semen collected from one cock is sufficient for inseminating 5 to 10 hens depending upon the semen volume and sperm concentration.
At farms, where AI is practiced the males are kept separately in individual cages where sufficient space is available for movement of the birds.
There should be a particular team of workers to associate collection and insemination of semen.
Frequent changes of personnel in the team may affect the normal behaviour of birds.
Rough handling should be avoided, if not it may develop fear reaction, which affects the semen volume during ejaculation.
Characteristics of poultry semen
Usually cock start producing semen from the age of 16 weeks but the fertilizing capacity of the semen is low.
So the cocks from 22 or 24 weeks of age are used for semen collection.
The natural colour of poultry semen is white or pearly white.
Heavy breed male can produce 0.75 to 1 ml semen and light breed male can produce 0.4 to 0.6 ml of semen.
A male can be used thrice in a week for semen collection with a gap of one day.
Although every day semen collection will not change the fertilizing capacity but the volume of semen will be low.
Semen consists of spermatozoa and seminal plasma.
Fowl semen is generally highly concentrated (3 to 8 billion spermatozoa per ml for broiler fowl).
This is due to the presence of limited amount of seminal plasma since the accessory reproductive organs are absent in avian species.
The seminal plasma is derived from the testes and excurrent ducts.
At the time of ejaculation a lymph-like fluid (also known as transparent fluid) of cloacal origin may be added to the semen in varying amounts.
The addition of transparent fluid to semen at the time of ejaculation act as an activating medium for the previously non-motile spermatozoa, thus ensuring their transport from the site of deposition to the sites of sperm storage tubules in the utero-vaginal junction of the hen's oviduct.
Equipments needed for A.I
Small glass funnel with stem plugged with wax.
Inseminating syringe
Wide mouthed glass vial.
Small pyrex semen cup
Large flask to hold water at 180 C to 200 C range for short time holding of semen.
Steps in A.I
AI in poultry is a three-step procedure involving semen collection, semen dilution and insemination.
The second step may be omitted if 'neat' semen (undiluted) is to be used for inseminations within 30 minutes after collection.
Semen collection
The first step in AI program is manual collection (milking) of the semen.
For semen collection, a team of two members are generally involved, one for restraining the male and the other for collecting semen.
The bird is held in a horizontal position by a person at a height convenient to the operator who is attempting to collect the semen.
To collect semen the operator should place the thumb and index finger of the left hand on either side of the cloaca and massage gently.
By his right hand the operator should hold a collecting funnel and with the thumb and index finger massage the soft part of abdomen below the pelvic bones.
Massage should be rapid and continuous until the cock protrudes the papilla from the cloaca.
Once the papilla is fully protruded, the previously positioned thumb and index finger of the left hand are used to squeeze out the semen in to the collecting funnel.
Avoid contamination of semen with faeces and feather.
Semen evaluation at the time of collection
Normal colour of the semen in pearly white or cream coloured.
Yellow semen and semen contaminated with blood, urates, faeces or other debris should be avoided.
Do not allow semen to contact water.
If debris or contaminants are observed in pooled semen, carefully aspirate contaminates from the sample before mixing with additional diluent with the semen
Place the diluted semen in a cooler or refrigerator (3 to 12 oC) to cool down.
Insemination
All equipment used for insemination should be thoroughly cleaned and dry before Use.
Insemination must be carried out when majority of the birds completed laying since a hard shelled egg in the lower end of the oviduct obstructs insemination and lowers fertility.
In practice, inseminating chicken after 3 pm obtained better results.
In turkey flocks much better results are obtained if insemination is done after 5 pm.
It is difficult to inseminate non-laying hens.
Usually insemination is done when the flock reaches 25% egg production.
Hens are inseminated twice during first week. Then at weekly intervals.
Procedure
Bird is held by the legs with the left hand down and tail tucked back and against the operator chest.
The thumb of the right hand is placed against the upper lip of the vent then with a rounding motion press the abdomen muscle.
Do not squeeze with fingers but apply pressure evenly with the palm of the hand.
When the oviduct is everted, the second operator inserts the syringe into oviduct as far as it is going inside without exerting pressure.
The insemination apparatus is introduced into the vagina about 1 inch and semen is deposited at the junction of vagina and uterus.
Dose and frequency of insemination
Chicken : 0.05 ml, once in a week
Turkey : 0.025 ml once in every 2 weeks
Ducks : 0.03 ml once in every 5 days
Goose : 0.05 ml for every 7 days.
It has been observed that the males produce more semen of good quality during morning and females produce more fertile eggs when inseminated around 9 p.m.
Semen volume and sperm concentration in different species of poultry

Species

Volume (ml)

Sperm concentration (million per ml)

Need of sperm concentration
per insemination (million)

Broiler type chicken

0.7

3500

150 to 200

Layer type chicken

0.5

4000

150 to 200

Tom

0.25

9000

300

Gander

0.6

2500

250

Drake

0.3

4000

300
TOP