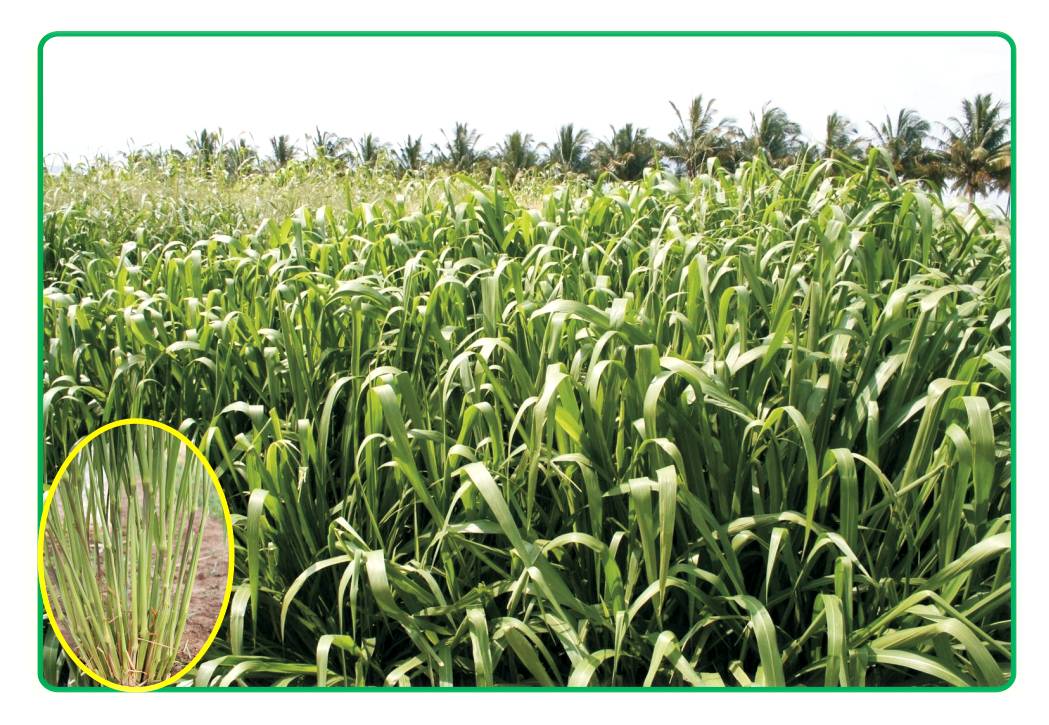 Season and Varieties
Zone District/ Season
Month
Varieties
Irrigated
All Districts
Throughout the year
CO 2 and CO (GG) 3
Rain fed
All Districts
Jun – Sep / Oct - Nov
CO 2 and CO (GG) 3
Particulars Of Guinea Grass Varieties
PARTICULARS
CO 2
CO (GG) 3
Parentage
CO 1 x Centenario
Clonal selection from Mumbasa
Duration (Days)
Perennial
Perennial
Green fodder yield (t/ha/year)
270 (7harvests)
340-360 (7harvests)
Morphological characters
Plant height (cm)
150-200
210-240
Number of tillers/clump
80-100
40-50
Leaf length (cm)
65-75
97- 110
Leaf width (cm)
2.5-2.9
3.2 - 4.5
Leaf-stem ratio
-
0.73
Quality characters
Dry matter (%)
25.94
20.2
Crude protein (%)
8.92
6.35
Crude fibre (%)
34.6
30.3
Phosphorus (%)
0.29
0.19
Calcium (%)
0.59
-
Magnesium (ppm)
0.38
-
IVDMD (%)
49.5
-
1. SOIL
All types of soil with good drainage.
2. PREPARATORY CULTIVATION
Plough 2 to 3 times to obtain a good tilth and form ridges and furrows at 50 cm spacing.

3. MANURING
Basal: FYM 25 t/ha; NPK 50:50:40 kg/ha
Top dressing: 25 kg N/ha after each cut.
4. SEED RATE
2.5 kg/ha seeds or 40,000 rooted slips.
5. SPACING
50x 50 cm
6. AFTER CULTIVATION
Hoeing and weeding on 30th day after sowing. Earthing up once after harvests.
7. IRRIGATION
Once in ten days or depending on soil condition.
8. PLANT PROTECTION
Generally not recommended.
9. HARVEST
First cut 75-80 days after germination or 45 days after planting of slips. Subsequent cuts at interval of 45 days.
10. GREEN FODDER YIELD : 260 t/ha per year in 8 cuts.
Note: Guinea grass can be intercropped with Desmanthus (Velimasal) at 3:1 ratio and can be
harvested together and fed to the animals.
Seed production
Rooted slips uprooted from 90 days old crop can be used for further propagation.
Updated on : 29.06.2013