Sugarcane
Water Management
Irrigate the crop depending upon the need during different phases of the crop.
Germination phase (0 - 35 days):
Provide shallow wetting with 2 to 3 cm depth of water at shorter intervals especially for sandy soil for enhancing the germination.
Sprinkler irrigation is the suitable method to satisfy the requirement, during initial stages.
Later, irrigation can be provided at 0.75, 0.75 and 0.50 IW/CPE ratio during tillering, grandgrowth and maturity phases respectively.
The irrigation intervals in each phase are given below:

Stages
Days of irrigation interval
Sandy soil
Clay soil
Tillering phase (36 to 100 days)
8
10
Grand growth phase (101 - 270 days)
8
10
Maturity phase (271 - harvest)
10
14
Drip Irrigation:
Planting setts obtained from 6-7 months old healthy nursery and planted in paired row planting system with the spacing of 30x30x30 / 150 cm.
Nine setts per metre per row have to be planted on either sides of the ridge thus making it as four row planting system.
12 mm drip laterals have to be placed in the middle ridge of each furrow with the lateral spacing of 240 cm & 8 'Lph' clog free drippers should be placed with a spacing of 75 cm on the lateral lines. The lateral length should not exceed more than 30-40 m.
Phosphorus @ 62.5 kg ha-1 has to be applied as basal a the time of planting.
Nitrogen and Potassium @ 275:112.5 kg ha-1 have to be injected into the system as urea and muriate of potash by using "Ventury" assembly in 10-12 equal splits starting from 15 to 150-180 days after planting.
Low or medium in nutrient status soil to be given with 50 per cent additional dose of Nitrogen and Potassium.
Irrigation is given once in three days based on the evapo-transpiration demand of the crop.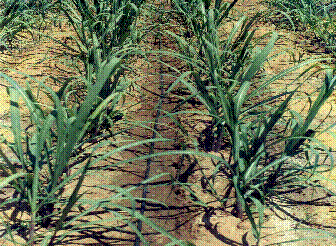 Paired row – Drip layout in sugarcane

Source:http://www.tnau.ac.in/tech/swc/fertigation.pdf

Concept of fertigation
Fertigation is the judicious application of fertilizers by combining with irrigation water.
Fertigation can be achieved through fertilizer tank, venturi System, Injector Pump, Non-Electric Proportional Liquid Dispenser (NEPLD) and Automated system
.
Recommended N & K @ of 275 and 112.5 kg. ha-1 may be applied in 14 equal splits with 15 days interval from 15 DAP.
25 kg N and 8 kg K2O per ha per split.
Urea and MOP (white potash) fertilisers can be used as N and K sources respectively
Fertigation up to 210 DAP can also be recommended
Advantages of Fertigation
Ensures a regular flow of water as well as nutrients resulting in increased growth rates for higher yields
Offers greater versatility in the timing of the nutrient application to meet specific crop demands
Improves availability of nutrients and their uptake by the roots
Safer application method which eliminates the danger of burning the plant root system
Offers simpler and more convenient application than soil application of fertilizer thus saving time, labour, equipment and energy
Improves fertilizer use efficiency
Reduction of soil compaction and mechanical damage to the crops
Potential reduction of environmental contamination
Convenient use of compound and ready-mix nutrient solutions containing also small concentration of micronutrients.
Contingent plan
Gradual widening of furrow:

At the time of planting, form furrow at a width of 30 cm initially. After that, widen the furrow to 45 cm on 45th day during first light earthing up and subsequently deepen the furrow on 90th day to save 35% of water.
Subsurface irrigation in sugarcane
Pit method of sugarcane planting under drip fertigation system Technology
Pit to pit spacing - 1.5 x 1.5 m
Number of pits/ha - 4,444 pits
Pit diameter - 0.9 m
Pit depth - 0.38 m
Number of budded setts / pit- 32 (single budded setts)
Fill the pits to a depth of 15 cm with compost and native soil and mix it well. Place the healthy setts in circular fashion leaving 10 cm from the outer boundary of the pits with equal spacing between each setts and cover the setts with soil. On 50 to 60 days after planting give partial earthing up by sliding the soil from the outer boundary of the pit and full earthing up should be given leaving a depression of 2.5 cm from the ground level at 90 to 100 days after planting
Fertilizer dose - 275:62.5:112.5kg NPK/ha
The entire phosphorous dose can be applied as basal at the time of planting
The nitrogen and potassium as urea and MOP (white potash) should be applied through fertigation system in 14 equal splits starting from 15 DAP upto 210 DAP
Drip design -lateral to lateral spacing 3.0 m (alternate rows)
8 mm micro tubes on either side of the lateral to a length of 1.0 m with one 8 LPH drippers / pit
Irrigation - daily or in alternative days
Benefits
Higher cane yield
Multi rationing is possible
Suited in problem soils
More water saving
System maintenance is easy
Less labour for after cultivation operations
Higher net return
Economics

Pit planting of cane in 1.5 m x 1.5 m pit spacing registered the highest net return of Rs.1, 19,649 ha-1 and 1, 55,982 ha-1 with in BCR of 2.26 and 3.31 in plant and ratoon crops respectively compared to the net return of Rs.1,16,650 and 1,27,360 registered in conventional method of cane cultivation in plant and ratoon crops.

Source: TNAU, Coimbatore, 2006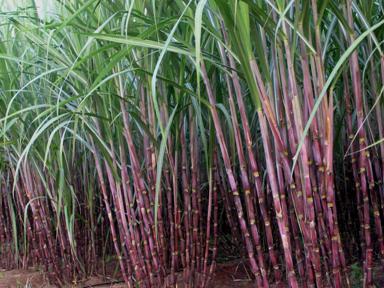 Pit method of sugarcane planting under drip fertigation system