Time of application is decided by LCC score
Take observations from 14 DAT in transplanted rice or 21 DAS in direct seeded rice.
Repeat the observations at weekly intervals up to heading
Observe the leaf colour in the fully opened third leaf from the top as index leaf.
Match the leaf color with the colours in the chart during morning hours (8-10 am).
Take observation in 10 places.
LCC critical value is 3.0 in low N response cultures like White Ponni and 4.0 in other cultivars and hybrids
When 6/10 observations show less than the critical colour value, N can be applied @ 35kg N/ha in dry season and 30kg N/ha in wet season per application per ha.
Green manure and farm yard manure application will enhance the growth and yield of rice in this system approach.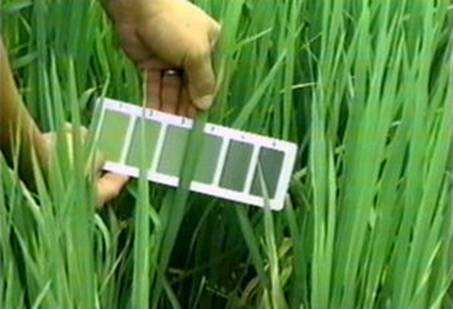 Leaf Color Chart based N Management