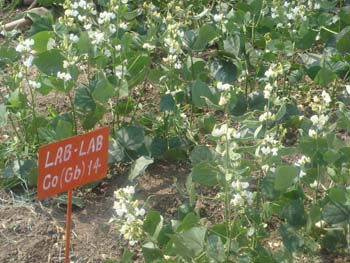 SEASON AND VARIETIES
| | |
| --- | --- |
| DISTRICT/SEASON | VARIETIES |
| All districts except The Nilgiris | |
| June - July | CO 1 |
| All through the year | CO 2 |
II. DESCRIPTION OF MOCHAI VARIETIES
| | | |
| --- | --- | --- |
| Particulars | CO 1 | CO 2 |
| Parentage | Pureline selection | Derivative of CO 8 X CO 1 |
| Year of release | 1980 | 1984 |
| 50% flowering (days) | 75 - 90 | 35 - 45 |
| Duration (days) | 140 | 105 |
| Grain yield (Kg/ha) | | |
| Rainfed | 1600 | 900 |
| Irrigated | .. | 1400 |
| Habit | Medium Erect and bushy | Erect and bushy determinate |
| | (indeterminate) photo sensitive | photo insensitive |
| Height (cms) | 60 - 70 | 60 |
| Colour of flowers | Purple | Purple |
| Colour of pod | Green | Green |
| Shape of pod | Flat | Flat |
| Colour of grain | Black | Black |
| 100 seed weight (g) | 24.4 | 20 |
CROP MANAGEMENT
MANAGEMENT OF FIELD OPERATIONS
1. FIELD PREPARATION
Prepare the land to fine tilth. Form beds and channels for bushy types.
SEED RATE
Particulars

Quantity of seed required kg/ha

Sole crop

Mixed crop

CO 12

20

10.0

CO 13

25

-
2. SEED TREATMENT WITH FUNGICIDES
Treat the seeds with Carbendezim (or) Thiram @ 2g/kg of seed 24hrs before sowing (or) with talc formulation of Trichoderma viride @ 4 g/kg seed (or) Pseudomonas fluorescens@ 10 g/kg seed. Biocontrol agents are compatible with biofertilizers. First treat the seeds with biocontrol agents and then with Rhizobium. Fungicides and biocontrol agents are incompatible.
3. SEED TREATMENT WITH BACTERIAL CULTURE
Fungicide treated seeds should be again treated with bacterial culture. There should be an interval of atleast 24 hours between fungicidal and bacterial culture treatments. Three packets of bacterial culture are sufficient for treating seeds required for one ha. The bacterial culture slurry may be prepared with rice kanji. Dry the inoculated seeds in shade for 15 minutes, before sowing.
4. FERTILIZER APPLICATION
a) Apply fertilizers basally before sowing.
Rainfed : 12.5 kg N + 25 kg P2O5 + 12.5 kg K2O +10 kg S*/ha
Irrigated : 25 kg N + 50 kg P2O5 + 25 kg K2O + 20 kg S*/ha
*Note : Applied in the form of gypsum if Single Super Phospate is not applied as a source of phosphorus
b) Soil application of 25 kg ZnSo4/ha under irrigated condition


5. SOWING

Dibble the seeds adopting the following spacing.

Varieties

CO 12

:

45 cm X 15 cm

CO 13

:

45 cm X 30 cm
6. WEED MANAGEMENT
i) Pre emergence application of Pendimethalin 2 litres/ha on 3 days after sowing using Backpack/ Knapsack/Rocker sprayer fitted with flat fan nozzle using 500 l of water for spraying one ha. After this, one hand weeding on 40-45 days after sowing gives weed free environment throughout the crop period.
ii) If herbicides are not applied give two hand weedings on 25 and 45days after sowing.
7. WATER MANAGEMENT
Irrigate immediately after sowing, followed by life irrigation on the third day. Irrigate at intervals of 7to 10 days depending upon soil and climatic conditions. Flowering and pod formation stages are critical periods when irrigation is a must. Avoid water stagnation at all stages. Apply KCl at 0.5 per cent as foliar spray during vegetative stage if there is moisture stress.
8. PRUNING TECHNIQUE
A spacing of about 10 feet between lines and four feet between plants are adopted. Pits are dug and two to three seeds are sown in the middle of the pit. One healthy seedling is allowed to grow and the rest removed. The vine is propped with a stick. When the vine reaches the pandal, the terminal bud is nipped. Allow the branches to trail over the pandal. Each branch may be pruned at three feet length so that the pandal is covered with vines. Branches arising on the main vine below the pandal are removed. When flowering starts, prune the tip of the branches bearing inflorescence having three nodes from the productive axil. Continue this procedure throughout the reproductive phase.
9. HARVESTING
Pick the pods when they are completely dry. Thresh the pods and clean the beans. Pick the tender pods once in a week for vegetable purpose.