COWPEA ( Vigna unguiculata (L.) Walp.aggreg.)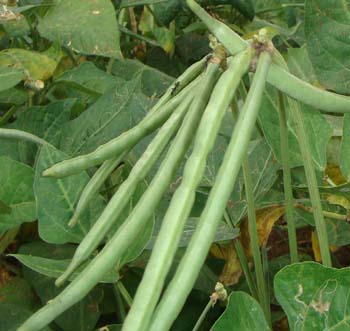 SEASON AND VARIETIES
DISTRICT/SEASON
VARIETIES
Adipattam (June-August)

For all districts except Kanyakumari and Nilgiris

Co 6, Co(CP) 7, Paiyur 1, VBN 1

Purattasipattam (September - November)

Vellore, Thiruvannamalai, Dharmapuri, Salem, Namakkal, Perembalur, Erode, Coimbatore, Madurai, Dindigul, Theni and Virudhunagar

Co 6, Co(CP) 7, Paiyur 1

Margazhi - Thaipattam (December – February)

Kanchipuram, Thiruvallur, Vellore, Thiruvannamalai, Dharmapuri, Salem, Namakkal, Coimbatore, Erode, Madurai, Dindigul, Theni, Tiruchirappalli, Perambalur, Ariyalur, Karur, Pudukkottai, Tirunelveli and Thoothukudi

Co 2, Co 6, Co(CP) 7, VBN 2
PARTICULARS OF VARIETIES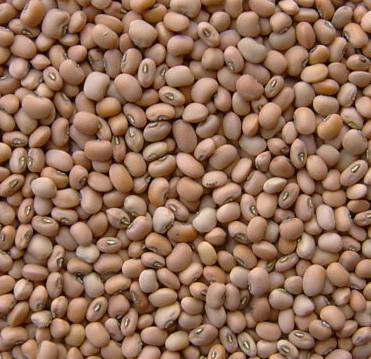 Source: www.21food.com/userImages/jyglobe/jyglobe$38164046.jpg
Particulars

CO 2

Paiyur 1

CO 6

VBN 1

VBN 2

CO(CP) 7

Parentage

Hybrid derivative (C521 x C49)

Selection from VM 16

MS 9804 x
C 152
Selection from
T 85F 2020

Selection from IT 81-D-1228-10

Gamma mutant of CO 4 (20 Kr)

Year of release

1972

1985

1993

1997

1998

2002

50% flowering(days)

45

75

35

35 – 40

40-45

40 – 45

Duration (days)

90

90

65 – 70

55 – 65

75 - 80

70 – 75

Grain yield(kg/ha) Rainfed

...

900

671

950

-

1000

Irrigated

1375

--

-

-

-

1600

Vegetable (Kg/ha)

9400

...

-

10580

-

Plant height (cm)

30 - 40

60 - 70

34.5

25 - 30

45 - 60

40 – 55

Stem, branches

Green stem purple wash at nodes,
3-4 branches

Erect

Green stem purple wash at nodes, 3-4 branches

Erect green,
2 – 4 branches
Green erect,
2 – 3 branches
Green with purple ring at fruiting nodes,
5 – 8 branches

Leaves

Trifoliate, broad and long petioles

Dark green leaflets possessing tri­angular white spots

Trifoliate entire, green, purple spot at the abse of leaflet

Light green

Dark green trifoliate

Ovote, trifoliate, entire, green and glabrous

Colour of pods

Tender greenish white

Green

Dark green pigmented tip

Greenish white

Light green

Green

Dry

Greyish white

Brown

Brown at maturity

Cream

Cream

Light brown

Colour of grain

Reddish brown with irregular patches

Brick red

Light cream

White

Ivory white, hilum with tan ring surrounded by brown band

Brownish white and squire shape

100 grain wt (g)

12.5

9.9

9.9

12 - 15

13 - 15

12 - 14
CROP MANAGEMENT
IV. MANAGEMENT OF FIELD OPERATIONS
1. FIELD PREPARATION
Prepare the land to fine tilth and form beds and channels.
SEED RATE
STRAIN
Quantity of seed required (kg/ha)
Pure crop
Mixed crop

Paiyur 1, VBN 1, VBN 2, CO 6, CO(CP) 7

25

12.5
Optimum plant population 3,50,000/ha.

2. SEED TREATMENT

Treat the seeds with Carbendazim or Thiram 2 g/kg of seed 24 hours before sowing (or) with talc formulation of Trichoderma viride @ 4g/kg of seed (or) Pseudomonas fluorescens @ 10 g/kg seed.
Biocontrol agents are compatible with biofertilizers.
First treat the seeds with biocontrol agents and then with Rhizobium.
Fungicides and biocontrol agents are incompatible.
3. SEED TREATMENT WITH BIOFERTILIZER
Fungicide-treated seeds, should be again treated with a bacterial culture. There should be an interval of atleast 24 hours between fungicidal and biofertilizer treatments.
The improved rhizobial strain COC 10 is more effective in increasing the yield.
Treat the seeds with 3 packets (600 g/ha) of Rhizobial culture COC 10 and 3 packets (600 g/ha) of Phosphobacteria developed at TNAU using rice kanji as binder. If the seed treatment is not carried out apply 10packets of Rhizobium (2000 g/ha) and 10 packets(2000 g) of Phosphobacteria with 25 kg of FYM and 25 kg of soil before sowing. Dry the biofertilizer treated seeds in shade for 15 minutes before sowing.
4. FERTILIZER APPLICATION
a) Apply fertilizers basally before sowing.
Rainfed : 12.5 kg N + 25 kg P2O5 + 12.5 kg K2O +10 kg S*/ha
Irrigated : 25 kg N + 50 kg P2O5 + 25 kg K2O + 20 kg S*/ha
*Note : Applied in the form of gypsum if Single Super Phospate is not applied as a source of phosphorus
b) Soil application of 25 kg ZnSo4/ha under irrigated condition
5. SOWING

Dibble the seeds adopting the following spacing.
| | | |
| --- | --- | --- |
| Varieties | Sole crop | Mixed crop |
| CO 6, VBN 1, Paiyur 1 | 30 cm X 15 cm | 200 cm X 15 cm |
| Co 6, CO (CP) 7, VBN 2, Co 2 | 45 cm x 15 cm | .. |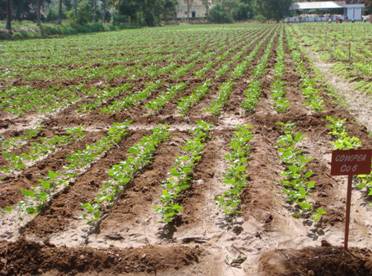 Cowpea CO 6 at a spacing of 30cm X 15 cm

6. WATER MANAGEMENT
Irrigate immediately after sowing followed by life irrigation on the third day. Irrigate at intervals of 7 to 10 days depending upon soil and climatic conditions. Flowering and pod formation stages are critical periods when irrigation is a must. Avoid water stagnation at all stages. . Apply KCl at 0.5 per cent as foliar spray during vegetative stage if there is moisture stress.
7. SPRAYING OF DIAMMONIUM PHOSPHATE OR UREA, NAA AND SALICYLIC ACID
Foliar spray of Spray of NAA 40 mg/litre and Salicylic acid 100 mg/litre once at pre-flowering and another at 15 days thereafter

Foliar spray of DAP 20 g/litre or urea 20 g/litre once at flowering and another at 15 days thereafter
8.WEED MANAGEMENT
Pre emergence application of Pendimethalin 2 litres on 3 days after sowing using Backpack/ Knapsack/Rocker sprayer fitted with flat fan nozzle using 500 l of water for spraying one ha. After this, one hand weeding on 30 days after sowing gives weed free environment throughout the crop period.

If herbicides are not applied give two hand weedings on 15 and 30 days after sowing.
9. Crop Protection
Updated on : March 2014