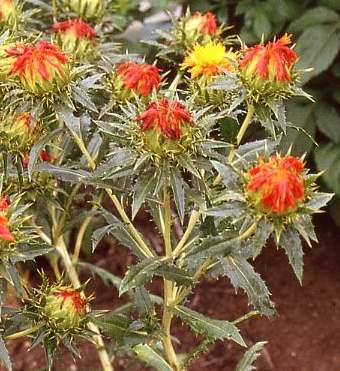 SAFFLOWER (Carthamus tinctorius)
CROP IMPROVEMENT
I. Season Varieties
Rainfed crop (November) K1, CO 1
Particulars of varieties
| | | |
| --- | --- | --- |
| | K1 | CO 1 |
| Duration (days) | 120 | 125 |
| Yield (kg/ha) Rainfed | 700 | 800 |
| Percentage of oil | 31 | 33 |
| Plant character | Spiny | Non-spiny |
PREPARATION OF THE FIELD
1. FIELD PREPARATION
a) Plough with tractor 2-3 times with a mould board plough or 5 times with a country plough.
b) Break the clods in between the ploughings and bring the soil to a fine tilth.
2. APPLICATION OF FYM
a) Spread 12.5 t of FYM or compost or composted coir pith per ha evenly and incorporate in the soil. b) If the manure is not applied before commencement of ploughing, spread the manure evenly before the last ploughing and incorporate in the soil.
NOTE: Do not leave the organic manure exposed to sunlight as nutrients will be lost.

3. APPLICATION OF FERTILIZERS
Apply N at 20 kg/ha basally.
4. SEED RATE
Adopt a seed rate of 10 kg/ha.
5. SPACING
Adopt a spacing of 45 cm between rows and 15 cm between plants.
6. SELECTION OF GOOD QUALITY SEEDS
Select mature good quality seeds, free from pest damage and fungal attack.
7. PRE-TREATMENT OF SEEDS WITH FUNGICIDES
a) Treat with Carbendazim or Thiram at 4 g/kg of seed in a polythene bag and ensure a uniform coating of the fungicide over the seed. b) Treat the seeds 24 hours prior to sowing.
NOTE: Seed treatment will protect the young seedlings from root rot disease in the early stage.
8. SOWING
a. Sow the seeds in line at a depth of 2 to 3 cm and cover with soil. b. Sow using gorru or country plough.
NOTE: First week of November is the best sowing time.
9. THINNING OUT SEEDLINGS
Thin out the seedlings to a spacing of 15 cm between plants on the 15th day of sowing.
10. WEED MANAGEMENT
Hoe and weed on 25th and 40th day of sowing.
11. HARVESTING
Observe the crop considering the average duration of the crop.
The leaves and entire plant loose their colour and turn brown at maturity.
Cut the plants at the bottom.
Keep the plants in the threshing floor and beat the plants (heads) with sticks till the mature seeds are separated.
Winnow the seed and dry in the sun.
Collect and store the seeds in gunnies.